markets
RBA Sees Better Economic Outlook, Neutral Cash Rate at 3.5%
By
Aussie dollar surges to 2-year high as growth seen speeding up

RBA: Despite global upswing, jobs and housing need monitoring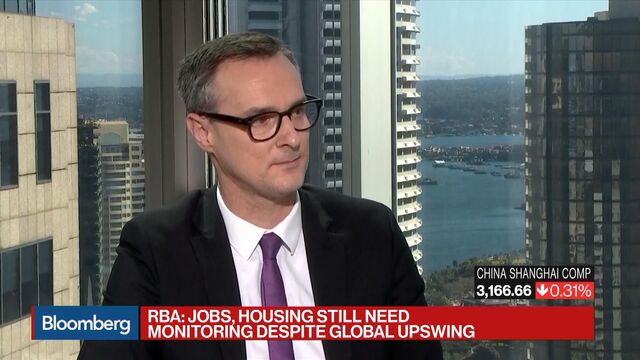 Start your day with what's moving markets in Asia. Sign up here to receive our newsletter.
Australia's central bank said the nation's economy was improving and estimated a neutral interest rate about two percentage points above the current record-low level. The currency soared to a two-year high.
In minutes of the Reserve Bank of Australia's July meeting Tuesday, members said the level of the neutral real interest rate -- where output growth is at potential and inflation stable -- had dropped since 2007 to around 3.5 percent, which included well-anchored inflation expectations of 2.5 percent. The central bank added "there is significant uncertainty around this estimate."
"The RBA minutes had a pretty positive tone and they've thrown out this idea that the neutral cash rate is 3.5, so people are like, well we're at 1.5 so that's super-accommodative and so forth," said Sally Auld, head of fixed-income and currency strategy for Australia at JPMorgan Chase & Co. In addition, "two more Republican senators have decided not to vote in favor of this new health care bill repeal, so that's seen the U.S. dollar weaken quite a bit."
The Aussie dollar climbed to 79.01 U.S. cents at 1:24 p.m. in Sydney, compared with 78.09 cents before the release. Traders are pricing in a more than 60 percent chance of a rate increase in May next year.

Yet the RBA also advised caution, underscoring why Governor Philip Lowe and his board have kept the cash rate at 1.5 percent since August, as the outlook for housing and jobs remains clouded. In contrast, Canada's central bank recently raised rates and other developed nations are talking about removing some stimulus as their economic fortunes take a turn for the better.
"Members regarded the improvement in the world economy over the preceding months as a welcome development," the RBA said. "Nevertheless, they assessed that current economic conditions in Australia, and the outlook for growth and inflation, meant that developments in the labor and housing markets continued to warrant careful monitoring."
Jobs Strength
Australia's easy policy has sent house prices soaring in Sydney and Melbourne, while also encouraging residential construction that's soaked up many former miners. The jobless rate has fallen to 5.5 percent, though under-employment remains high, prompting the RBA to note the stronger labor market removes "some of the downside risk" to its wage-growth forecasts.
The central bank also said it expected quarterly economic growth to have increased in the second quarter -- despite disruptions to coal exports caused by Cyclone Debbie -- after a weak first three months of the year that it mainly attributed to temporary factors. It also noted that state and the federal budgets suggested fiscal policy would be "more expansionary in 2017/18 than had previously been expected."
"The RBA's discussion about the fall in the neutral interest rate at July's meeting could be interpreted as a sign that the bank is starting to think about raising interest rates," said Paul Dales, chief Australia and New Zealand economist at Capital Economics Ltd. "Indeed, the conclusion that the nominal neutral interest rate may now be 3.5 percent, compared to 5 percent previously, show where rates eventually need to go."
It's Complicated
A complication, however, is a currency that has climbed more than 7 percent since early May, tightening conditions for exporters like tourism and education that are key to supporting growth. The appreciation of the currency after the minutes' release adds to that problem.
The minutes noted the Aussie dollar has "appreciated somewhat" since the June meeting, adding that this was consistent with "slightly better-than-expected domestic economic news." It noted that the currency had remained in the narrow range of the prior year or so.
The RBA reiterated its regular line that "an appreciating exchange rate would complicate" the economy's adjustment from the mining investment boom.
The board also expressed some concern about the risks to consumption growth, in the event household-income gains remained subdued, particularly given household debt is at a record 190 percent of income.
Regulators have sought to cool the lending binge -- particularly for investment in residential property -- with curbs on borrowing. The central bank said it's still too early to see the full effects of these.
— With assistance by Garfield Clinton Reynolds
Before it's here, it's on the Bloomberg Terminal.
LEARN MORE