British Columbia Premier Mirrors Trudeau With 50% Women in Cabinet
By
Party stalwart Carole James named provincial finance minister

Canadian province in state of emergency as wildfires spread
John Horgan's first move as British Columbia's new premier took a cue from Canada's feminist leader, appointing women to half the posts in his cabinet including the job of finance minister.
Horgan, who ousted one of only three female premiers in Canada, was sworn in at a ceremony in the provincial legislature in Victoria on Tuesday. He immediately announced his 22-member cabinet -- the province's first ever gender-balanced one, according to a government statement.
His appointees include Carole James as both finance minister and deputy premier. James, a stalwart of Horgan's New Democratic Party and ex-opposition leader, was most recently the finance critic during the former Liberal Party government.
Why Provincial Canadian Politics Matters for Business
Prime Minister Justin Trudeau named 15 women to his cabinet of 30 when he took office in November 2015. When asked after his swearing-in ceremony why an equal cabinet was important to him, Trudeau famously quipped, "Because it's 2015." Trudeau himself followed the lead of Jean Charest, former Quebec premier who put women in half his provincial ministries in 2007.
Still, Canada's progress has been in fits and starts. This year it ranked 62 out of 190 countries for women's representation in government, down from 17 in 1997, according to the International Parliamentary Union.
Horgan, a 57-year-old former pulp mill worker, ousted former premier Christy Clark in Canada's fastest-growing provincial economy. That ended the 16-year rule of the Liberal Party government whose most recent 22-member cabinet had nine women, including Clark. Only two female premiers remain in the nation out of 13 -- Rachel Notley in Alberta and Kathleen Wynne in Ontario.
Energy Projects
While the change in leadership is a boost for female representation at the top of B.C. politics, it may spell uncertainty for other interests, including multi-billion-dollar energy projects. Horgan's NDP government is propped up by an alliance with the Green Party, and both oppose Kinder Morgan Inc.'s Trans Mountain pipeline.
The new government may also complicate Trudeau's fraught trade relations with the U.S. Horgan, who has backed "hardball" negotiations with U.S. President Donald Trump, plans to visit Washington next week to tackle U.S. duties on Canadian softwood lumber, the province's biggest export commodity.
Horgan faces steep challenges as he takes his place at the helm. The Pacific Coast province is under a state of emergency as it battles wildfires across the interior. Speculation remains over how long his government will last with the NDP-Green alliance together only holding a one-seat majority in the 87-member legislature.
Watch Next: Businessweek Debrief: A Conversation With Justin Trudeau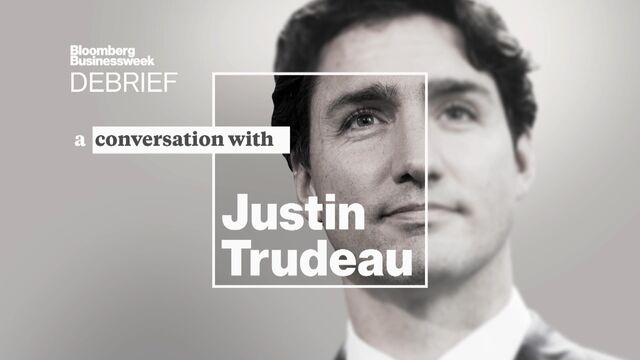 Before it's here, it's on the Bloomberg Terminal.
LEARN MORE