business
Novartis Points to Early Signs of Rebound at Alcon Eye-Care Unit
By
Alcon sales set to grow by "single-digit" percent this year

Jimenez reiterates Novartis poised to return to growth in 2018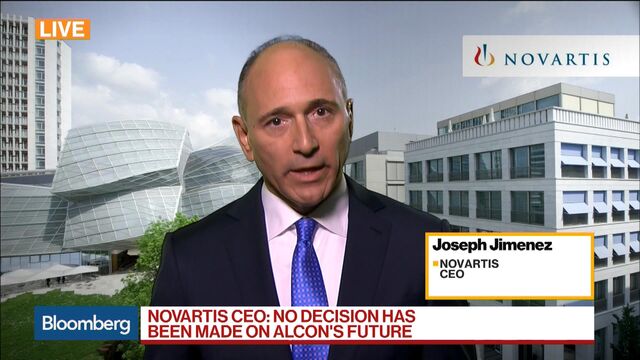 Novartis AG Chief Executive Officer Joe Jimenez pointed to early signs of a revival at the Swiss drugmaker's Alcon eye-care division, which will strengthen his hand as he considers an exit from the ailing business.
Alcon's revenue in 2017 will likely grow by a low "single-digit" percent, the Basel, Switzerland-based company said in a statement on Tuesday. That's a change from April, when the company had said the unit's sales may be unchanged from the prior year or expand slightly. During the second quarter, sales for the business expanded 1 percent.
The turnaround at Alcon will "improve the options we have available to us," Jimenez said in a Bloomberg Television interview with Anna Edwards and Manus Cranny. Earlier this year, Novartis said that it was reviewing all options including a spinoff or initial public offering for the division, and would provide an update by the end of the year.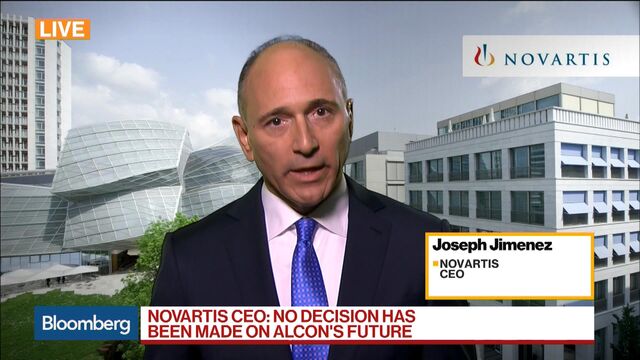 "If we were to do a capital markets exit, we'd want to see a number of quarters of consecutive growth," Jimenez said in the interview. "Hopefully we can continue this momentum and drive additional growth in the back half of 2017 and into 2018."
Shares of Novartis climbed 1.1 percent to 81.05 Swiss francs as of 9:04 a.m. in Zurich trading. The stock has climbed 9.3 percent this year.
'Finally Delivered'
"After a long period of retrenchment and heavy investment, Alcon has finally delivered a quarter with clear sales growth in its two main sub-divisions," Alistair Campbell, an analyst at Berenberg Bank, said in a note to clients.
Jimenez told investors in October 2015 that Novartis was doing a "deep analysis" of Alcon and that he hoped to come up with a plan to get the unit "back to a decent growth rate." The company has acknowledged that the turnaround, which Jimenez had hoped to see in 2016, has taken longer.
The drugmaker on Tuesday posted a smaller decline in second-quarter earnings than analysts had projected as newer medicines helped offset the eroding sales of its biggest drug. Profit dropped to $1.22 a share, beating analysts' estimates of $1.18.
Revenue in the latest quarter slumped 2 percent to $12.2 billion, matching analysts' projection. The drugmaker's Sandoz generics unit posted a 5 percent decline in sales as U.S. prices continued to plummet.
Jimenez reiterated his confidence in returning the Swiss drugmaker to growth next year. Novartis is turning to newer medicines such as heart drug Entresto, psoriasis treatment Cosentyx and Kisqali for breast cancer to help counter a decline in sales of its blockbuster Gleevec, which is losing ground to cheaper copycat drugs.
Use of Entresto, which had a slow start, and Cosentyx will likely be expanded to include new indications, Novartis said in May. Kisqali will also be "a key growth driver" as the company powers ahead with multiple tests in cutting-edge immune-oncology, in which the body's defense system is primed to attack tumors.
Before it's here, it's on the Bloomberg Terminal.
LEARN MORE