Moon's Scholarly Economic Team Raises Questions About Experience
By
Academics in key posts outnumber those who've served before

Yet they may bring fresh ideas to fix the nation's problems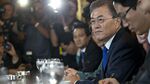 South Korean President Moon Jae-in's economic team is taking shape and it looks heavy on professors with theoretical expertise and light on policy makers with experience in governing and administration.
Seven of 11 people set to fill important economic roles in Moon's administration have spent much of their careers at universities, while four have extensive experience in public administration. An eighth scholar, nominated to be labor minister, withdrew after opposition in the legislative assembly over his qualifications and a drink-driving charge.
By comparison, just two of eight key economic appointees in the early days of former president Park Geun-hye's government were academics. Her predecessor, the corporate executive-turned-politician Lee Myung-bak had four professors, two businessmen and three experienced public officials on his initial economic team.

Given the influence-peddling scandal that brought down Park's presidency, it may be that people untainted by previous experience in politics and government can help bring reform. And if they can develop innovative policies to address the long-term economic problems in the labor market and elsewhere, Moon's policy team could be just what the country needs. 
But the question of experience will loom large until the group has proved itself.
Theory and Policy
"Turning theory into policy is very tricky," said Kim Tae-yun, a Hanyang University professor who studies public policy. He stressed the need for people to understand how officialdom works in order to get things done.
And with Moon lacking a parliamentary majority, even simply getting policies through the assembly is going to be difficult. Hong Joon-pyo, who leads the opposition party Liberty Korea and was beaten by Moon in the presidential election, said last week that his party "won't approve policies if they are run by unqualified ministers."
The nation faces two complex issues with both economic and foreign policy aspects that are likely to need real-world skills to resolve: The Trump administration calls for talks to amend the bilateral free-trade deal, and China's economic reprisals for South Korea's decision to deploy a U.S. missile shield.
To be sure, Moon's choice for the vital role of finance minister is Kim Dong-yeon, who has served for nearly 30 years as a public official.
Below is the full list of Moon's economic team:
Kim Dong-yeon, finance minister, deputy prime minister. Kim has three decades experience in public service.
Jang Ha-sung, chief policymaker in the president's office. Economics professor at Korea University who specialized in studies on inequality.
Kim Sang-jo, chief of the Fair Trade Commission. Economics professor at Hansung University and prominent critic of the chaebol business conglomerates.
Hong Jang-pyo, senior presidential secretary for economic affairs. Economics professor of Pukyong National University and also a critic of the chaebol.
Bahn Jahng-shick, senior presidential secretary for jobs. Public official turned professor at Sogang University.
Choi Jong-ku, chief of Financial Services Commission. President of the Export-Import Bank of Korea. Former official at the finance ministry.
Lee Yong-seop, vice chairman of the Committee on Job Creation. Lee is an expert on tax and fiscal management, having served as the commissioner of both the Korea Customs Service and the National Tax Service.
Kim Gwang-doo, vice chairman of the National Economic Advisory Council. Kim, a former economics professor at Sogang University in Seoul, was a policy adviser to the ousted Park Geun-hye.
Kim Su-hyun, senior presidential secretary for social policy. Kim has spent nearly 20 years in academia, recently teaching about housing welfare at Sejong University. Kim has served about four years as a presidential advisor and vice environment minister.
Kim Hyun-chul, presidential economic adviser. Kim is a business administration professor at Seoul National University and has focused his studies on international marketing.
Paik Un-gyu, nominated to be minister of trade industry and energy. A professor at Hanyang University, Paik is an energy expert.
— With assistance by Adrian Leung
Before it's here, it's on the Bloomberg Terminal.
LEARN MORE