Drinks
Here's the Only Way You Should be Drinking LaCroix Seltzer
By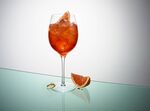 There's no in-between with LaCroix: You either love it or hate it. The no-sugar, no-calorie, carbonated sparkling water drink has exploded in popularity the past few years, and every day, it seems, someone posts their love for the drink on social media. You can't walk into a Whole Foods without seeing a massive shrine to the stuff. Me? I average at least 8 cans per day. 
Introduced by Wisconsin's G. Heileman Brewing Co. in 1981, LaCroix remained a cult favorite among Midwestern and Floridian high school girls—and their mothers—until Fort Lauderdale-based National Beverage Corp. acquired it in 2002. To stand out in the crowded fizzy-water market, it was rebranded to highlight its all-natural flavor, aimed at winning over consumers willing to pay more for drinks perceived to promote wellness. Or, what Nick Caporella, the company's octogenarian CEO, calls "cola converts." 
The kitschy cans have proven to be a natural fit on Instagram as sugar-avoiding millennials—from Silicon Valley to Miami and beyond—became obsessed with its variety of offbeat flavors like melón pomelo (cantaloupe and pink grapefruit), mure pepin (blackberry cucumber), passion fruit, peach-pear, mango, and more than a dozen others. 
Last year, sales topped a record $330 million, and since January, the share price of National Beverage stock—aptly traded as FIZZ—has doubled, up near $100 range. At least one analyst has valued the brand at $2.6 billion. Still, influencers keep giving the drink their own word-of-mouth boost. Hit record producer Diplo was spotted with a case of it at Coachella. Last month, the Los Angeles-based musician Big Dipper released a seltzer-inspired slow jam, LaCroix Boi, as a tribute to the colorful canned beverage.

But if all you're doing is drinking it straight and arguing online about which flavor is best, you're missing out on most of the fun. The full range of flavors—even coconut—can be put to use as a stand in for the typical plain, unflavored soda water called for in so many cocktail recipes and breathe new life into old classics. In a Ramos Gin Fizz, substitute Tangerine LaCroix for standard seltzer to add depth to the citrus notes. Or change up your highball routine with an Apricot LaCroix and high-dollar Scotch. 
In summer, I use one of my favorite flavors, Pamplemousse, in an Aperol Spritz. Purists might argue that the drink needs no augmentation, but in the original recipe—just 2 ounces of Aperol and soda water, and 3 ounces of prosecco—basic carbonated H₂O dilutes the bright flavors of the Aperol while also dulling the wine. The grapefruit flavors in that can of LaCroix, on the other hand, do a better job supporting the aromatics of both. But if a Spritz—or Pamplemousse—isn't your thing, here are four other ways to test the waters.
Coco Libre
3 oz. Coconut LaCroix
2 oz.  Banks Golden Age dark rum
3 oz. cola
Fill a highball glass with ice, pour cola, rum, and then Coconut LaCroix. Garnish with a lime wedge.
G&T&L
3 oz. Lime LaCroix
2 oz. Ford's London dry gin
3 oz. tonic water 
Fill a highball glass with ice, pour tonic, gin, and then Lime LaCroix. Garnish with a lime wedge.
The Unnecessarily Fancy Highball
6 oz. Apricot LaCroix
2 oz. Compass Box Hedonism whisky
Fill a highball glass with ice, pour 3 oz. of Apricot LaCroix, add whiskey, and top with remaining 3 oz. of soda.

Tangerine Fizz
1.5 oz. Tangerine LaCroix
2 oz. Greenhook gin
0.5 oz. fresh lemon juice
0.5 oz. fresh lime juice
1 oz. simple syrup
0.75 oz. heavy cream
1 egg white
Combine ingredients in a shaker, close shaker and shake briefly without ice. Fill shaker with ice and shake again for 15 seconds. Strain into a highball or old-fashioned glass. Top with Tangerine LaCroix.
Before it's here, it's on the Bloomberg Terminal.
LEARN MORE