The Bank of Japan Is Set for a Dose of Reality
By and
BOJ easing program likely to continue past 2019, Hayakawa says

Hayakawa says another comprehensive policy assessment needed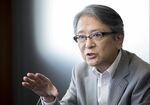 Start your day with what's moving markets in Asia. Sign up here to receive our newsletter.
Weak inflation will eventually force the Bank of Japan to acknowledge that its stimulus program will be needed for several more years, with the first hint possibly coming this week when it releases its newest price forecasts, according to a former BOJ executive director.
Regardless of whether the BOJ acknowledges that inflation won't reach its target as expected, Governor Haruhiko Kuroda won't get anywhere near a policy exit before his five-year term expires in April, Hideo Hayakawa, said in an interview with Bloomberg last week. 
"Japan's inflation is shockingly weak," said Hayakawa, who left the central bank in 2013.
Read more: The BOJ's Inflation Target Is Unattainable, Most Economists Say
Ahead of a policy decision on July 20, the BOJ stands alone as other major global central banks move toward tightening policy. With prices in Japan rising slowly, and no end to BOJ easing in sight, a key focus this week will be the central bank's latest quarterly inflation forecasts. None of the 43 analysts surveyed by Bloomberg expect a change to BOJ policy this week.

Some do expect the BOJ to lower its price forecasts for this fiscal year and the next. Another possibility, one seen as less likely, is that the BOJ says it won't hit 2 percent inflation around the fiscal year starting in April 2018, as it has projected.
Some BOJ officials believe the "around fiscal 2018" forecast can be maintained, while others are leaning toward a change to reflect current price weakness, according to people familiar with central bank's discussions.
The BOJ will probably keep the target of "around fiscal 2018" or change it to "around the second half of fiscal 2018," said Hayakawa, who is currently a senior executive fellow at the Fujitsu Research Institute.
Tax Hurdle
In any case, the central bank will probably need to continue its easing program for at least two more years, Hayakawa said, because a sales-tax increase is scheduled for October 2019, making a policy exit around then unlikely. A tax hike in 2014 pushed the economy into a technical recession.
Hayakawa said he expects the BOJ to lower its inflation forecast for the fiscal year ending in March to only 1 percent or just above it, down from 1.4 percent now. In reality, inflation will be below 1 percent, he said.
Hayakawa said the BOJ should conduct another comprehensive policy assessment, similar to the one it undertook last year prior to adopting yield curve control in September.
Following the assessment, the BOJ should clearly explain to the public why reaching 2 percent inflation is necessary, including the BOJ's need for room to lower interest rates in case of an economic shock, Hayakawa said.
Even as Japan's economy continued its longest growth streak in 11 years, consumer prices excluding fresh food rose 0.4 percent in May.
Before it's here, it's on the Bloomberg Terminal.
LEARN MORE