Hong Kong Shares Are a Refuge for Mainland Investors
By
Southbound flows return through HK stock-connect program

Concern on tightening financial regulation hits China shares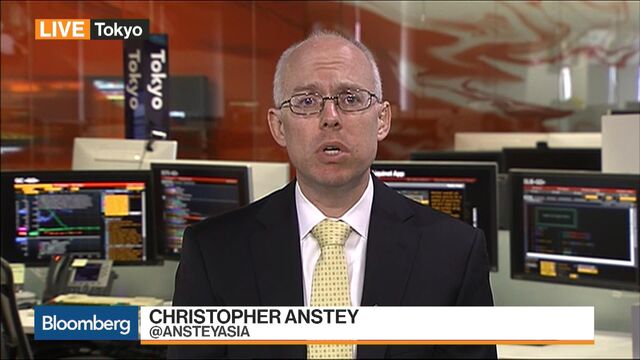 Start your day with what's moving markets in Asia. Sign up here to receive our newsletter.
Chinese investors may be limited from putting their cash overseas, but their link to Hong Kong's stocks is again proving to be a source of refuge at a time of worry.
The latest concerns stem from a strengthening in financial regulations and pressures on liquidity that have crushed small-cap stocks on the mainland. The result: inflows to Hong Kong equities through a trading link with Shanghai, in an echo of moves last year triggered by fears of a tumbling yuan exchange rate.
With the influx, Hong Kong shares are now trouncing their counterparts north of the border by the most in 2 1/2 years. Net purchases through the program linking Hong Kong and Shanghai climbed to $2.9 billion in the first two weeks of July, the most in two months, helping send the Hang Seng Index back up to its 2015 high this week.

The selloff in Chinese stocks has been most pronounced in small-cap companies, with the ChiNext gauge down more than 8 percent this month. Smaller enterprises have a harder time accessing credit than state-owned giants, and have born the brunt of losses in equities as policy makers continue to focus on reducing leverage in the economy.
President Xi Jinping at the weekend said the central bank will play a stronger role in curbing risks, leading analysts to anticipate a further tightening in financial regulations. Some took a discussion on the need to increase direct financing as a hint for more initial public offerings. The prospect of greater supply would hurt stocks already reeling from concern that earnings growth will slow.
"If mainland investors want to capture higher potential in the share price rally, Hong Kong will be an alternative for them," said Ben Kwong, executive director at KGI Asia Ltd. in Hong Kong. "If China's market is under tighter regulation that means there's relatively limited opportunity at least in the near term, so they would prefer to go to another market. Even though Hong Kong stocks have gained 21 percent this year, we're not seeing much correction pressure."
The Hang Seng Index climbed 0.6 percent on Wednesday, while the ChiNext index rose 1 percent.

Read More: One Country, Two Markets: Hong Kong Shares Jump Amid China Rout
Tencent Holdings Ltd. and Industrial & Commercial Bank of China Ltd. -- two large Chinese enterprises -- were among those shares most actively traded through Shanghai over the past week, according to data from the Hong Kong exchange. Also on the list: Sunac China Holdings Ltd., a developer that last week agreed to buy a mammoth package of tourism assets, though now faces the potential for a hiccup on that deal.
Southbound flows to Hong Kong also surged last year, as Chinese investors tried to shift their money out of yuan-denominated assets amid worries the currency will weaken. While mainland investors using the stock-connect program have to be repaid in yuan when they sell Hong Kong shares, they are shielded from any depreciation in the Chinese currency while their money is on the other side of the border. The inflow then slowed as the yuan appreciated to a seven-month high.
— With assistance by Robin Ganguly
Before it's here, it's on the Bloomberg Terminal.
LEARN MORE