Brexit No Deterrent as Handelsbanken CEO Targets U.K. Growth
By
Swedish bank says U.K. branch operations may become subsidiary

Handelsbanken has 207 branches in the U.K. as growth continues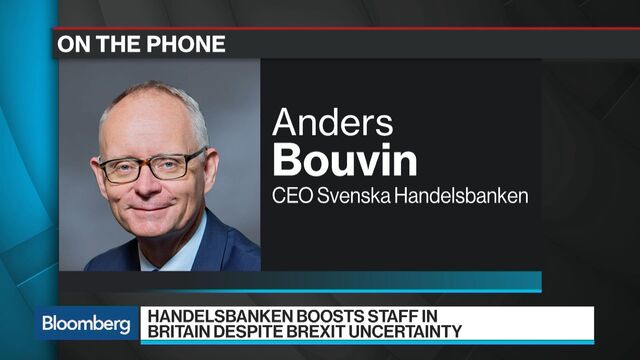 Follow @Brexit for all the latest news, and sign up to our daily Brexit Bulletin newsletter.
One of Sweden's biggest banks is targeting growth in the U.K. as uncertainty surrounding the country's future amid Brexit talks proves no deterrent at all.
The chief executive officer of Svenska Handelsbanken AB, Anders Bouvin, told Bloomberg TV's Francine Lacqua he is "very firmly committed" to the U.K. market. Management will probably continue to add branches, though the CEO said the bank can also keep expanding without opening more sites.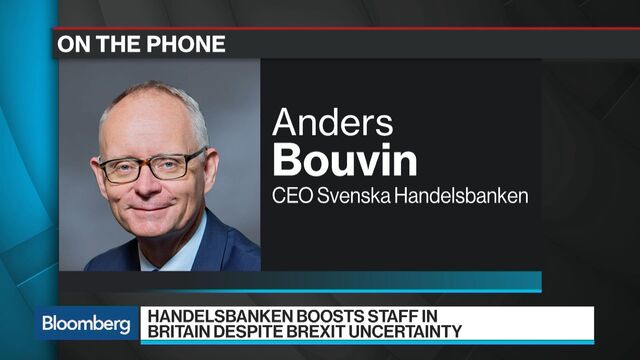 Handelsbanken is as optimistic as ever about its prospects in Britain with the fallout from EU exit talks having no effect on demand for the bank's services, Bouvin said in the interview.
"We can't see that Brexit will affect the demand for our products at all," the CEO said. "We've been growing in the U.K. now for quite a long time" and the view is that "our bank offers something different from the high-street banks and of course Brexit doesn't change this at all."
"We're firmly committed to the U.K. market and we're growing handsomely," Bouvin said.


The comments follow the bank's second-quarter report, which showed that Bouvin added 4 percent to his U.K. staff as more Britons turned to Sweden's second-biggest bank for loans and to handle their deposits.
In the first half of the year, the Stockholm-based lender brought the number of employees at its U.K. operations to 2,006, it said on Tuesday. In the second quarter, the bank's loans to British households and corporates rose 11 percent from a year earlier, while deposits soared 28 percent.
Handelsbanken said the currency effect meant the cost of running its U.K. business in Swedish kronor rose only 4 percent, compared with the 11 percent increase in pound terms. Expenses rose "as a result of expanding operations as well as costs related to Brexit and preparations for the possible conversion of the U.K. branch into a subsidiary," it said.

Overall, Handelsbanken continued what looks to be a trend among Sweden's biggest banks, reporting growth in income from lending, fees and commissions.
With about 40 percent of net revenue coming from outside its home country, Handelsbanken beat analyst estimates for both net interest income and net income, according to second-quarter results published from Stockholm on Tuesday.
Net interest income rose 8 percent from a year earlier to 7.32 billion kronor ($886 million), while analysts surveyed by Bloomberg predicted 7.20 billion kronor
Net income slipped 3 percent to 4.06 billion kronor, also beating the analyst estimate of 3.90 billion kronor.
But the bank's capital ratio disappointed analysts and investors, driving Handelsbanken's shares lower after the market opened. The common equity Tier 1 capital ratio of 23.4 percent of risk-weighted assets at the end of June was 40 basis points below consensus, said Jefferies analyst Kapilan Pillai.
Read more about Swedish banks adding risk weights to government debt
Britain is Handelsbanken's second-largest market (after Sweden) with the bank getting around 13 percent of its revenue from branches there.
Handelsbanken is looking into changing its U.K. branch structure to a subsidiary, pending the outcome of Brexit talks. The bank would ideally prefer to continue with its branches, which management finds a more efficient model. But switching to a subsidiary structure would cut Swedish resolution fee requirements, Chief Financial Officer Rolf Marquardt said by phone.
Like other lenders, the bank is talking with regulators both in the U.K. and in Sweden about possible outcomes, post-Brexit, but "it's early days," he said.
Whether the strategy of targeting U.K. growth pays off remains unclear. Shares in Handelsbanken have risen about 20 percent since Bouvin become CEO in August. That's roughly half the gain in the Bloomberg index of European financial stocks over the same period. Handelsbanken has also opted to hold on to capital rather than pay shareholders higher dividends.
Bouvin said in April that the bank's priorities are to meet capital requirements, generate growth (while maintaining a buffer above capital requirements of as much as 3 percentage points) and once that's achieved, increasing shareholder payouts with whatever's left.

— With assistance by Nicholas Rigillo, and Hanna Hoikkala
Before it's here, it's on the Bloomberg Terminal.
LEARN MORE