Five Things You Need to Know to Start Your Day
Get caught up on what's moving markets in Asia.
By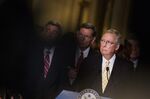 Want to receive this post in your inbox every morning? Sign up here.
Republican healthcare plans implode, China's resolve for financial stability swells, strengths turn into weakness for a pair of U.S. banks. Here are some of the things people in markets are talking about.
No Zeal for Repeal
The votes aren't there for a straight repeal of the Affordable Care Act in the U.S. Senate, which was Senate Majority Leader Mitch McConnell's next step less than 24 hours after support for the replacement plan was also found wanting. President Donald Trump now says the Republicans will "let Obamacare fail" in a bid to avoid owning the healthcare issue. Wall Street strategists are warning that the impasse may jeopardize the administration's fiscal wishes, which include tax reductions and a boost in infrastructure spending. The primary fallout in financial markets Tuesday was greenback weakness. The legislative quagmire is causing headaches for insurers, who are unsure about the way forward since the law remains in limbo. Additionally, the struggle to repeal and replace the Affordable Care Act has taken an acute toll on House Speaker Paul Ryan's popularity.
Containment
Beijing's push to maintain stability and mitigate risks to its financial system continues, with the nation's banking regulator reportedly telling lenders to lower rates offered on wealth-management products. Meanwhile, liquidity conditions are tightening again, with overnight repurchase rates jumping despite a sizeable injection of funds by the People's Bank of China. The renewed deleveraging drive rattled Chinese stocks, especially small caps, early in the week but a late-day rally Tuesday pushed benchmark gauges into positive territory on the session. The softness in Chinese stocks -- the world's worst this year -- has pushed investors to seek refuge in equities listed in Hong Kong.
Don

'

t Bank on It
Goldman Sachs Group Inc. and Bank of America Corp. both posted better-than-expected second quarter earnings Tuesday morning, but that wasn't enough to keep them from retreating as investors focused on soft spots in their businesses. For Goldman, the results revealed its worst first-half performance for trading revenue during Lloyd Blankfein's tenure, while Bank of America posted a surprise drop in net interest income. This weakness in these traditionally standout segments contributed to the down days for each bank.
FANG Bites Back

The Nasdaq Composite Index closed at records with its heavyweights -- Netflix, Facebook, Amazon, and Google -- leading the way higher. The S&P 500 Index also managed to inch higher to an all-time high despite softness in the financials. Shares of Chipotle Mexican Grill, however, swooned after reports that a handful of customers became ill after eating at one of its Virginia restaurants. Bitcoin spiked after miners began to employ new software that may help different factions reach a compromise and enable the cryptocurrency to scale up. West Texas Intermediate futures traded above $46 per barrel, with the advance fueled by a report Saudi Arabia may deepen its export cuts.
Aussie Up
The Australian dollar soared to a two-year high against the U.S. dollar Tuesday following the release of minutes from the Reserve Bank of Australia's July meeting, in which it struck a more hawkish tone than the statement released two weeks ago. Bulls now see the currency breaching 80 cents versus the greenback in short order. S&P/ASX 200 and Nikkei 225 futures are virtually flat ahead of the open Wednesday.
What we've been reading
This is what caught our eye over the last 24 hours.
Before it's here, it's on the Bloomberg Terminal.
LEARN MORE