Film Studios Say Thanks But No Thanks to NYC Mayor's Investment
By
The mayor vows to spend $1.35 billion to create 100,000 jobs

Plan for a Brooklyn campus has some worried about competition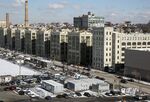 Mayor Bill de Blasio's election-year pledge to add 100,000 well-paying jobs in the next decade has some New York business owners concerned he will hurt more than help them.
His plan includes spending $136 million to create a "Made in New York" hub in Brooklyn's Sunset Park for the clothing, film and television industries. Existing production studios say a subsidized space for new businesses may make it harder for them to compete, while apparel makers say their proximity to each other in Manhattan is what makes the city an international fashion capital.
"It isn't really 'job creation' if you are just moving jobs from one place to another," said Jesse Laymon, policy director at the New York City Employment and Training Coalition, a non-profit that represents about 150 job placement organizations. "The city should focus less on where people could work, and more on who can be taught which skills to put them to work."
De Blasio, who has tried to build a national profile as a champion of progressive values, says his $1.35 billion of investments will increase jobs that pay at least $50,000 annually, helping New Yorkers afford to live there. In the past decade, the city added 666,000 jobs, reaching a high of 3.9 million in May. But too many of them, the mayor says, are in low-paying retail or tourism. 
Web Streaming
Some of the fastest growth has been in film and television, which generates about $9 billion annually for the city's economy. A record 56 TV series were shot in the city this year, thanks to an explosion in web-streamed programs on such platforms as HBO, Netflix and Hulu. The companies have been lured by hundreds of millions of dollars in city and state subsidies, including about $450 million of state tax credits covering 30 percent of local production expenses.

"We simply have gotten to a point where you've got a bunch of existing companies and they're doing great, but you need more capacity to consolidate the strength in the industry," de Blasio said during a news conference this month.
Sound Stages
City-based film companies say they've already responded to unprecedented demand for sound stages, spending millions on expansion. Hundreds of thousands of square feet of new studio space in Brooklyn, Queens and Staten Island have been built in the past three years or are planned.
Alan Suna, whose Queens-based Silvercup Studios has 23 stages where TV series such as "30 Rock," "Mad Men" and "The Sopranos" have been shot, said there's plenty of existing space to meet demand.
"Every TV show that has tried to find a home in New York has been able to find one," he said.
$50,000 Jobs
Money would be better spent training workers, said Douglas Steiner, whose Steiner Studios has partnered with Brooklyn College, a division of the City University of New York, to offer a Master of Fine Arts degree in film-making.
"We brought this industry back from the dead," said Steiner, whose 26 acres inside the former Brooklyn Navy Yard is the largest sound stage facility outside Hollywood. "Given the huge investment and risk we took, I'm not crazy about competing with the city."
James Patchett, president of the city's Economic Development Corp., says Steiner owes his company's prosperity in part to inexpensive leases on city-owned land and other government help. Large studio owners oppose de Blasio's plan because they want to stifle competition, he said during a May 31 Crain's Magazine breakfast.
Patchett's swipe at the larger studios showed "a fundamental lack of understanding of our industry," Steiner said, counting dozens of large and small competitors within the city or an hour's drive. His company has six sound stages under construction and plans for at least 11 more, he said. 
Movie Workers
John Ford, who represents 3,700 motion picture workers as president of Local 52 of the International Alliance of Theatrical Stage Employees, said more studios would create more jobs. Smaller studios also support de Blasio's plan.
"With real estate so expensive we welcome a chance to bid on operating a city-owned site," said Peter Kapsalis, CEO of Brooklyn's Cine Magic East River Studios, where Showtime's "Homeland" and "Billions" are shot.
Eastern Effects, home to FX's "The Americans," must move to accommodate a federal EPA clean-up of Brooklyn's polluted Gowanus Canal, so to owner Scott Levy, "the prospect of 100,000 square feet of inexpensive production space in what's now an underutilized property would be an amazing opportunity."
De Blasio's plan has created anxiety among the 100-plus jobholders inside an old warehouse that's part of a 36-acre, 11-building Sunset Park area known as the Bush Terminal. All inhabitants must vacate by Aug. 31 while the city rehabilitates the building.
Glaucio Silva, who owns a high-end woodworking shop there, said he'll have to spend $30,000 to move his equipment to temporary space several miles away, and he's not sure how many of his 25 workers he'll be able to keep.
Silva said that when de Blasio showed up there for a February news conference announcing his plan, tenants weren't invited and were told the event was only for the press.
"We didn't get a chance to ask our questions," he said. 
De Blasio's efforts could help non-college educated New Yorkers find scarce well-paying jobs, but only if the strategy doesn't have a negative impact on existing businesses, said Jonathan Bowles, executive director of the Center for an Urban Future, an economic-research group.
"It would be a shame if these well-intentioned plans were to create difficulties for the film companies we have," Bowles said.
Before it's here, it's on the Bloomberg Terminal.
LEARN MORE