Ukraine Rebels Stun Allies, Anger Foes With New State Idea
By
Separatist leader proposes uniting rebel areas as Malorossiya

Russia, France say move would breach 2015 peace agreement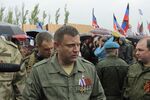 A surprise proposal by rebels in eastern Ukraine to create a new state caught their allies off guard and sparked protest from the government in Kiev and its supporters in Europe.
Pro-Russian separatists based in the city of Donetsk said they'd unite the two self-proclaimed republics, though the move appeared to be a non-starter as the other rebel group denied agreeing to the proposal and Russia cautioned about the implications of such a step for peace efforts in the region. Another Donetsk separatist leader later backtracked.
"We believe the Ukrainian state as it was can't be restored," Alexander Zakharchenko, head of the Donetsk People's Republic, was cited by Russia's Interfax news service as saying Tuesday. The new state, Malorossiya, would name Donetsk as its capital and court other regions of the country in a bid to replace Ukraine in its current form.
The conflict in Ukraine's easternmost regions erupted after Russia annexed Crimea in 2014 and has cost more than 10,000 lives. A peace accord signed in Minsk, Belarus, the following year remains largely unfulfilled. Malorossiya, or Little Russia, referred during czarist times to an area roughly covering modern Ukraine. President Vladimir Putin has in the past spoken of Novorossiya, or New Russia, a concept that referred to swathes of land once owned by the Russian empire.
Russian Rejection
Ukrainian President Petro Poroshenko maintained Tuesday that he'd continue efforts to restore sovereignty over the rebel-held lands. France's Foreign Ministry urged Russia to declare the separatists' plan a breach of the Minsk peace agreement. France has been mediating negotiations over the conflict in eastern Ukraine along with Germany. The U.S. also appointed its own envoy this month to accelerate progress toward a settlement.
Kremlin spokesman Dmitry Peskov, speaking on a daily conference call with reporters, declined to comment on the proposal to create a new state, reiterating Russia's backing for the Minsk peace deal. The announcement was the personal initiative of Zakharchenko, Peskov told RIA Novosti. The authorities in Moscow found out about it from the media, he said.
Russia's representative to the peace process said the idea doesn't comply with the Minsk pact.
"I interpret this only as an invitation to discussions, the declaration carries no legal consequences," Boris Gryzlov was quoted as saying by the Tass news service. The proposal "isn't a real political subject."
About 70 percent Ukrainians would support some kind of compromise to end the conflict in the nation's east, according to a poll released this week. Just less than a fifth favor returning the territory by force.
— With assistance by Ilya Arkhipov
Before it's here, it's on the Bloomberg Terminal.
LEARN MORE