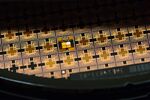 A provider of one of the most boring parts of the semiconductor industry has turned out to be among investors' most exciting picks this year.
GlobalWafers Co. makes the slices of silicon upon which chips are made. Compared to designers like Qualcomm Inc. or behemoths such as Intel Corp., GlobalWafers' product isn't sexy. But those wafers form an irreplaceable part of the global electronics supply chain.
Two major developments have driven the Taipei-traded stock up by more than 100 percent this year, making it the eighth-best performer among the MSCI Asia Pacific Index's 1,035 members.

First was GlobalWafers deal last year to purchase U.S. rival SunEdison Semiconductor Ltd. for $683 million. SunEdison Semiconductor shareholders received a 79 percent premium to the stock's 30-day trading average prior to the announcement. The transaction put a strain on GlobalWafers' balance sheet, prompting it to hit up equity investors earlier this year for $469.2 million via a global depositary receipts offering.
But the benefits from that acquisition were significant, and swift. Early closing helped double revenue in December, and a speedy integration of the two firms meant a quick return to profitability in the first quarter. The transaction created the world's third-largest maker of silicon wafers with a market share of about 17 percent. Analysts at Goldman Sachs Group Inc. said at the time the deal may tighten supply, boost prices and raise margins.
A second, and perhaps more fundamental, reason for GlobalWafers' rise has been the continued growth in global chip manufacturing, led by Chinese firms.
GlobalWafers CEO Doris Hsu has said she expects wafer prices to keep climbing through the first quarter of 2018. Notably, customers are chasing eight-inch wafers more aggressively than the more-modern 12-inch products used by the world's biggest chipmakers. And since the cultivating, slicing and polishing of wafers takes skill and specialist equipment, boosting capacity isn't easy.
Chinese companies are the key drivers of that older technology, with many using second-hand equipment purchased from firms that have upgraded. In an interview with Bloomberg's Lin Miaojung soon after the SunEdison deal was announced, Hsu predicted the resulting entity may become China's biggest supplier.

There are seven buy ratings on GlobalWafers, two holds and zero sells, and a 12-month target price of NT$295 ($9.70) versus the current level of NT$244.50. The company's business may seem boring, but its believers could be onto something.
Global semiconductor revenue is expected to expand 11.5 percent this year, the fastest pace since 2010. While forecasts are for that to slow in 2018, it's likely the drivers of what growth there is will be Chinese operators, the exact market Hsu expects GlobalWafers to capture with its broader reach.
Before it's here, it's on the Bloomberg Terminal.
LEARN MORE