BofA's Interest Income Drops Even After Fed Delivers Rate Hikes
By
Lender reports surprise drop in quarterly net interest margin

Profit rises on improved credit quality, trading results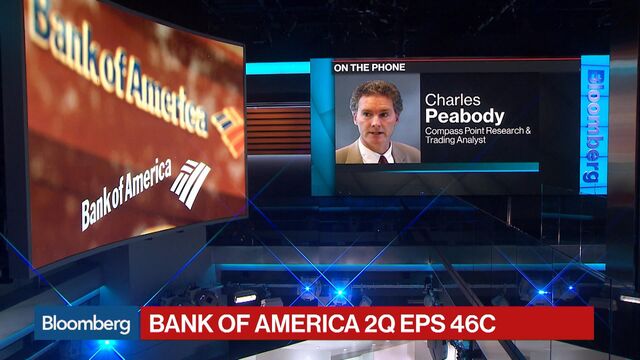 Bank of America Corp.'s expected bonanza from rising interest rates has stalled.
The lender, viewed as the most sensitive to rate changes among U.S. banks, reported a surprise drop in net interest income in the second quarter, after a 7 percent jump in the first three months of the year. Its two largest rivals -- JPMorgan Chase & Co. and Wells Fargo & Co. -- posted increases in the quarter.
Chief Executive Officer Brian Moynihan has been trying to lower investors' expectations in recent months after earlier predicting that income derived from lending and holding securities would soar once the Federal Reserve started hiking interest rates. Even with the decline in interest income, second-quarter profit climbed from a year earlier as credit quality improved and trading was stronger than expected, the Charlotte, North Carolina-based bank said Tuesday in a statement.
"The quarter was messy," UBS Group AG analysts led by Saul Martinez wrote in a note to investors. "We see the results as mixed, with NII underperforming, markets results a bit better than expected, and cost performance still good."
Interest income was hurt by the sale of a U.K. credit-card business, stagnating long-term interest rates and other "transient factors," Chief Financial Officer Paul Donofrio said on a call with reporters. Net interest margin, the difference between what a bank charges for loans and pays depositors, fell 5 basis points to 2.34 percent.

After the Fed raised interest rates in December, Bank of America reported more than $700 million in additional net interest income in the first quarter. It lowered guidance for the second quarter to a jump of $150 million, even as the U.S. central bank raised rates again in March. Two months ago, Moynihan told investors the increase in interest income would more likely be about $50 million, because the bank sold the U.K. unit more quickly than anticipated and yields have been stubbornly low on long-dated Treasury bonds.
'Size Parameter'
Bank of America expects interest income to rise in the third quarter, assuming modest growth in loans and deposits, according to a presentation on its website. Donofrio declined to give a forecast on how large the increase might be.
"We want to get out of the game of putting a size parameter on it," Donofrio told analysts on a conference call. He said the loss of $225 million in interest income from the sale of the U.K. card unit and the June rate hike would affect results.
Investors have pushed up shares of Bank of America more than any other giant U.S. lender since Donald Trump's election, betting it's poised for brighter days. The firm gained 41 percent since Nov. 8 through Monday, compared with the 28 percent advance of the 24-company KBW Bank Index. The lender's shares slipped 0.7 percent to $23.86 at 10:03 a.m. in New York.
Net income rose 10 percent to $5.27 billion, or 46 cents a share, from $4.78 billion, or 41 cents, a year earlier, according to the statement. The average estimate of 24 analysts surveyed by Bloomberg was for 43 cents a share.
Revenue Climbs
Total revenue climbed 7 percent to $22.8 billion from a year earlier, exceeding analysts' expectations of $21.8 billion. Expenses rose 1.7 percent to $13.7 billion, compared with estimates of $13.6 billion, largely tied to the costs of selling some data centers and increased severance pay.
The bank generated $11.2 billion in net interest income, using the adjusted figure analysts tend to prefer to show fully taxable equivalence. That was down from the first quarter and missed analysts' estimates of $11.3 billion.
Trading revenue from fixed income declined 14 percent to $2.11 billion, a smaller drop than analysts expected, while equities trading rose 2.7 percent to $1.12 billion. Donofrio said activity in the last few weeks of June was "very strong."
"We saw that across the board, in equities but also in" fixed income, currencies and commodities, Donofrio said.
Bank of America increased the fees it took from advising clients by 45 percent to $483 million, just $20 million less than JPMorgan posted for deal advice. That beat analysts' expectations for $333 million. 
"It was a quarter where a lot of things came together," Donofrio said on the media call. "We continue to chip away and have great dialogues with CEOs and boards. It showed up in this quarter."
— With assistance by Yalman Onaran
Before it's here, it's on the Bloomberg Terminal.
LEARN MORE