Australia Creates Home Affairs Ministry to Boost Terrorism Fight
By
Dutton to oversee federal police, intelligence, border force

PM Turnbull says overhaul is biggest revamp in four decades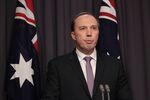 Australia will create a Home Affairs ministry to boost anti-terrorism links between government agencies, in the nation's biggest security shakeup in more than 40 years, Prime Minister Malcolm Turnbull said.
To be led by current Minister for Immigration and Border Protection Peter Dutton, the portfolio will be based on the U.K.'s Home Office and have oversight of federal police, intelligence agencies and border forces, Turnbull told reporters on Tuesday in Canberra.
"This is driven by operational logic," Turnbull said. "You have a domestic security challenge which gets greater all the time." The government will also create an Office of National Intelligence to coordinate efforts and boost cyber security, he said.
Turnbull said the U.K.'s Home Office, rather than the U.S. Department of Homeland Security, provided the template for the new ministry, which would be small enough to be nimble and would be consistent with arrangements made by other "Five Eyes" intelligence partners including New Zealand and Canada.
The new super-ministry, which will strip management of the Australian Security Intelligence Organisation from the attorney general's portfolio and federal police from the justice ministry, will need legislative changes to be implemented, he said.
Potential Challenger
Former police officer Dutton, 46, has been a federal lawmaker since 2001 and held ministry portfolios for health, sport and the assistant treasury before Turnbull's predecessor, Tony Abbott, appointed him to the immigration and border protection portfolio in December 2014.
One of the ruling Liberal Party's most senior conservatives, Dutton was a strong backer of Abbott's failed bid to keep the leadership in a September 2015 party challenge from Turnbull. With the Liberal-National coalition trailing in opinion polls, Dutton has been touted by some political analysts as a potential challenger to Turnbull's leadership.
Turnbull, 62, denied the change was driven by political imperatives, including appeasing a conservative lawmaker in his coalition with a senior ministry position.
"It's not about politics, it's about safety," Turnbull said. "We have the best agencies in the world, we want them to work together."
Before it's here, it's on the Bloomberg Terminal.
LEARN MORE