Trump Should Put Down Ax, Use Scalpel to Limit Risk, Centerview's Blair Effron Says
By
Tariffs can be 'race to the bottom,' Centerview's Effron say

Banker sees corporate executives frustrated by Washington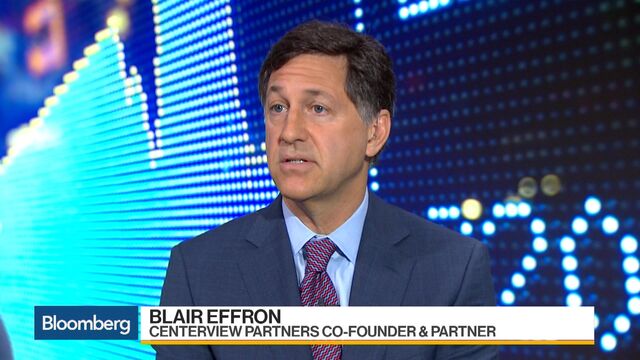 U.S. President Donald Trump should approach trade policies, especially with China, with a softer approach as he reshapes global relationships, said Centerview Partners co-founder Blair Effron.
"There are certain industries that certainly need protection," Effron said Monday in a Bloomberg Television interview without listing the sectors of the economy. "And you would do it with a scalpel, not with an ax."
Trump has weighed steps to role back imports, saying this month that China has been "dumping steel and destroying our steel industry" and that he would stop it. Axios has reported that one possible plan was tariffs in the 20 percent range. Critics are concerned that other nations could retaliate against such measures.
"I generally think that tariffs become a race to the bottom," Effron said.
The U.S. risks losing its role as a global leader if it abandons long-time agreements, the banker said. He cited the possibility that Mexico and Canada would reach accords without involving the U.S.
"We need fair trade, and we need to protect our workers. That said, that's something that 180 countries are also trying to do," Effron said. "It's one thing to change trade agreements, but it's another thing not to have them."
Echoing Dimon
Effron, a veteran investment banker who formed Centerview in 2006, said business leaders are frustrated as the Trump administration has hit delays in implementing key campaign promises. Jamie Dimon, the chief executive officer of JPMorgan Chase & Co., said last week that being an American has been "almost an embarrassment" amid gridlock in Washington.
"A lot of the promise of what we wanted to get done, tax reform, infrastructure, just isn't gathering momentum," Effron said. "There's also frustration that if we don't start getting the dialogue going by this fall, you start to run into the election calendar of 2018, and we should assume it becomes even that much more difficult."
The latest Bloomberg National Poll figures also hints at frustration. Just 40 percent of Americans approve of the job that Trump is doing in the White House, and 55 percent view him unfavorably, up 12 points since December.
Mergers, Acquisitions
The dealmaker said uncertainties have been dampening mergers and acquisitions activity. While global M&A volumes are roughly in line with last year, with $1.4 trillion in deals announced so far, buyers have shifted their focus. Acquisitions of European targets are up about 38 percent on last year through Monday, while deals targeting U.S. companies are down over the same period, according to data compiled by Bloomberg.
Acquirers are also shunning megadeals. Just $238 billion-worth of transactions valued at more than $10 billion have been announced, down more than a quarter from the same time last year.
"We went into the year with certain projections saying it would be a record year," Effron said. "Fact is, it isn't."
— With assistance by Natasha Rausch
Before it's here, it's on the Bloomberg Terminal.
LEARN MORE