BUSINESS
This Secretive Clan Wants to Beat the World's Biggest Drugmakers
Some family members think their company should take more risks
By and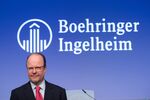 When Boehringer Ingelheim had the chance to snatch a prize biotech company from under a rival's nose a few years back, it decided to pass. That 2011 decision didn't sit well with some members of the family that controls the 132-year-old German drugmaker.
"We didn't have the balls to acquire something like this," Mathias Albert Boehringer groused to his second cousin, Christoph Boehringer, via text message. "I expected as much."
The exchange, disclosed this year in court testimony, exemplifies the stresses facing Boehringer Ingelheim. With a younger, more ambitious generation in charge now, it's set an internal goal of boosting sales by almost 60 percent by 2025, to 25 billion euros ($28.5 billion). Currently, that would rank it among the world's top 10 drugmakers. Still, the company remains secretive and reluctant to take bold steps.
The conflict reflects a longstanding dilemma across Germany's galaxy of family-owned businesses: whether to stick with conservative tradition or open up to outside investment and dilute family control. One such company, construction-equipment maker Wirtgen Group, yielded last month, agreeing to sell itself to Deere & Co. for 4.6 billion euros. Another, manufacturing-technology provider Grohmann Engineering GmbH, sold out to Tesla Inc. in November.
Boehringer plays in a bigger league. Were it publicly traded, it would probably have a market value of more than 40 billion euros, based on average profit multiples compiled by Bloomberg for drugmakers of its size. It's one of Europe's most valuable closely held companies.

The family's attitude limits Boehringer Ingelheim's ability to take risks as it tries to compete with pharma giants such as Merck & Co. and Bristol-Myers Squibb Co. in the high-stakes and costly business of developing new drugs for illnesses such as cancer, obesity-linked liver disease or Alzheimer's. The company has repeatedly ruled out selling shares in an initial public offering, closing off one avenue that would allow it to make bigger bets.
"The whole dynamic is much more controlled and less rock-and-roll than a publicly listed firm," said Ludo Van der Heyden, a professor at INSEAD, the French  business school. And a target such as Boehringer's 25 billion-euro revenue goal, which was disclosed to employees but not made public, sends a signal to workers and family, he said: "'We need to be big players because otherwise we're going to be eaten up.'"
The drugmaker did take a risk on a big deal last year, a 22.8 billion-euro swap of animal health and over-the-counter drug assets with Sanofi, and it said it plans to seek more external partnerships on promising new drugs.
Yet even that transaction was structured conservatively. Boehringer paid 4.7 billion euros in cash despite favorable conditions in the debt markets. That's mostly because it didn't want anyone poking into its books, said Chief Financial Officer Simone Menne, who joined the company last year and who confirmed the sales target in an interview.
"As soon as you ask for money from the market, you have obligations," said Menne, who had plenty of experience with investors in her previous job as CFO of Deutsche Lufthansa AG. "If you can keep that freedom, we prefer to have that freedom."
CEO Hubertus von Baumbach, who took over on July 1, 2016, is a great-grandson of Albert Boehringer, who bought a factory to make tartar -- used in baking powder -- in Ingelheim in 1885. Von Baumbach and his cousin, Chairman Christian Boehringer, steer the company from matching glass-walled offices on the seventh floor of Boehringer Ingelheim's headquarters. They look out over Ingelheim, a bustling city of 26,500 people tucked into a curve of the Rhine River.
Boehringer money is behind the scenes everywhere, from the concert hall and newly refurbished business district to the family's hedged-in corner of the cemetery and to the walled compound where the 49-year-old CEO lives in an otherwise unremarkable residential district. A dozen family members are listed in corporate filings as limited partners; the youngest, Maximilian von Baumbach, 19, was transferred his holding by Hubertus von Baumbach last summer.
Both Christian, 52, and Hubertus von Baumbach declined requests for interviews, as did Andreas Barner, the former CEO who's now the only non-family member on the six-member shareholder committee. At the drugmaker's annual press conference in April, von Baumbach also declined to address the clan's strategic plans. He agreed later to answer questions in writing.
"I believe in the high standards of our science," he said. "And I also believe that Boehringer Ingelheim's culture makes us attractive both for employees and for external partners."
Assuming Boehringer can maintain the average annual growth rate it achieved from 2005 through last year, it could in theory hit its sales target by 2025 without acquisitions, said Menne, the CFO. Still, she said the company remains open to deals. That could mean a large acquisition or another asset swap, but only if the target is right.
"Size isn't everything, is it? BMW is not the biggest," said Menne, citing the automaker as an example of Germany's tradition of family-backed companies that dominate specialized markets. "You have people sitting in front of you who think, 'OK, do we create value for the next generation?' And that is a totally different feeling, and for me, that is really helpful."
The family doesn't look at quarterly results, Menne said. Instead, the shareholder committee measures the company according to whether its profitability and pipeline of new medicines are competitive with the market average, looking three to five years into the future.

Sometimes being cautious pays off. James Pfaus, a professor at Concordia University in Montreal who advised Boehringer Ingelheim on the first drug to boost female desire, remembered his surprise at meeting a handful of Boehringer family members at an early meeting to discuss whether to fund human clinical trials.
"I guess they needed to be sold on the idea," Pfaus said of the family members, who laughed during the presentation but also asked questions. "I'd never seen that before -- I could see the scientific staff asking questions, but the guys that own the company? And their questions were good."
Still, Pfaus said he never got the impression the Boehringers were comfortable with their family name being associated with a drug to treat sexual dysfunction. When the U.S. Food and Drug Administration turned down an initial application to sell the compound in 2010, Boehringer Ingelheim sold it to a small drugmaker called Sprout. Valeant Pharmaceuticals International Inc. later bought Sprout, but the desire drug hasn't been a success.
Boehringer's conservatism also has kept it from being a leader in some markets. In 2012, when Pfizer Inc. was considering the sale of its animal-health unit, then-CFO von Baumbach said the division would be "too big to swallow" for a company that wanted to focus on organic growth instead. Pfizer sold shares in the business less than a year later in an IPO that valued it at $13 billion, and the operation, Zoetis Inc., is now the world's biggest maker of animal medicines with a capitalization of about $31 billion.

Once Sanofi's veterinary business came on the market, von Baumbach was ready to try to catch up. Though he was still transitioning to the CEO role, he was the force behind the asset swap, according to Didier Krause, head of the works council that represents employees in Ingelheim.
"It's important for the people to have a family member at the top again," Krause said. "It will bring the company forward."
Boehringer Ingelheim is slowly making other changes as well. In November 2015, a month before disclosing the Sanofi negotiations, the company said it would seek more partnerships with other companies, a departure from a tradition of seeking to develop top drugs exclusively out of its own labs. It cut its budget for in-house research and development. Boehringer last month also created an independent unit called BI X to work on new digital products.
Last year, an executive-board reshuffle created a position for innovation and gave individual units more power to make decisions -- such as whether to move a new compound into patient trials.
Court testimony this year as Christoph Boehringer was being tried on insider trading charges provided a window onto the internal family debate that led up to the changes. The court disclosed the text-message exchange between him and Mathias Boehringer about how Micromet Inc. had asked the family company to invest in order to fend off an approach from Amgen Inc., the world's biggest biotech company. 
Mathias, 48, explained in court that the two were communicating because the company's conservative actions on outside partnerships were "the big topic of frustration" for the two of them. Christoph, 47, who had always denied the allegations, was cleared in May of using inside information to trade shares of Micromet and another company.
"We talked to the company leadership, we talked to the shareholders, nothing changed," Mathias said in his testimony. "It's a huge problem because you can see the effects of wrong action only 10 or 12 years later. Then it's often too late to change anything."
Christian Boehringer, who's been chairman since 2007, articulated the opposing view in an interview in the 2011 corporate magazine, in which he compared Boehringer Ingelheim to a tree and said the company tries to "grow independently and from the inside."
For years, that strategy worked. Every blockbuster drug -- those with more than $1 billion in annual sales -- in Boehringer Ingelheim's portfolio came from the same sprawling complex of labs in Biberach an der Riss, Germany, a small city about an hour and a half southeast of Stuttgart in southern Germany. Employees stroll the grounds with ice cream cones on their lunch breaks while others pedal around the site on company-owned bicycles.
More recently, there have been some missteps. One involved a diabetes medicine called Tradjenta, or linagliptin, approved in the U.S. five years after Merck started selling a similar drug. German regulators said Boehringer's offering was no better than existing therapies; the company chose not to sell it in Germany. And while Tradjenta did manage to become a global blockbuster, with 1.13 billion euros in sales last year, that's still only about one-fifth what Merck's segment leader brings in.
Boehringer Ingelheim's sales dropped in 2013 and 2014. The company cut 453 positions in Germany beginning in 2014, though almost all of the workers affected found other jobs at the company. In the U.S., about 1,000 positions have been eliminated in the past 18 months.
Family members, though, show little sense of urgency about short-term financial results. When Christian started as chairman, the head of the company's business in Germany, Stefan Rinn, asked him what his goals were. 
"I thought he'd say, 'I want to raise profit in two years,"' Rinn said. "But he said he wanted to hand the company on to his kids in the same condition."
Before it's here, it's on the Bloomberg Terminal.
LEARN MORE