The Mega-Money Manager Killing His Automated Competition
Pimco Chief Investment Officerfficer Dan Ivascyn is leading the firm with a combination of bold risk-taking and coolheaded caution.
By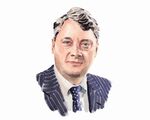 "It's not something that comes naturally to me," says Dan Ivascyn of his role as the public face of Pimco, the country's second-biggest bond manager. "I'm never going to get fully comfortable, because I'm more inwardly focused."
Ivascyn took over Pacific Investment Management Co. after Bill Gross, its mercurial co-founder, was ousted in a generational power struggle. Gross's exit led investors to pull more than $350 billion from Pimco's funds, leaving the company in crisis. In the three years since, Ivascyn has managed not only to steady the firm but also to resume delivering returns better than those of its biggest rivals.
As a child, Ivascyn listened to personal finance guru Bruce Williams's radio show every night before bed, a habit he acknowledges was "a little weird." He joined Pimco in 1998 after stints at Bear Stearns and Fidelity Investments and became an expert in structured products, such as mortgage-backed securities, a skill that helped the firm prosper after the last decade's housing market crash.
Active money managers have been losing market share for years to low-fee, passively run index funds. Rather than joining the fee race to the bottom, Ivascyn's strategy is to marry talent and technology. He seats risk managers next to portfolio managers, who team up with mathematical analysts to fine-tune positions for each client. It's working: Investors have been moving money back to the firm, especially to Ivascyn's Pimco Income mutual fund, which added $15.6 billion in assets this year through June and has outperformed 99 percent of similar funds five years running. "Ivascyn is likely impacting other portfolios [at Pimco] because of his role," says Todd Rosenbluth, director of ETF and mutual fund research for CFRA Research. "But the Income Fund is considerably outperforming its peers. And investors put money where it's working, so Income is dominating flows."
Ivascyn encourages his traders to take risks, but managers who stray from Pimco's investing guidelines are risking their jobs. "I'm trying to tilt the mindset," he says. "It's not always easy to do when strong people are running your funds." The ultimate goal is to institutionalize an investing process that's not dependent on a single star manager. Ivascyn doesn't intend to leave the firm, based in Newport Beach, Calif., soon, but it's something he thinks about. "I'm staring out the window, and it's sunny, and the beach is there," he says. "If I were to head out in a few months, if that's the decision I made, we wouldn't miss a beat."
Before it's here, it's on the Bloomberg Terminal.
LEARN MORE