Shkreli Trial Veers From Securities Fraud Evidence to Soap Opera
By
Defense playing up 'no harm, no foul' argument to federal jury

Ex-hedge fund manager faces up to 20 years if convicted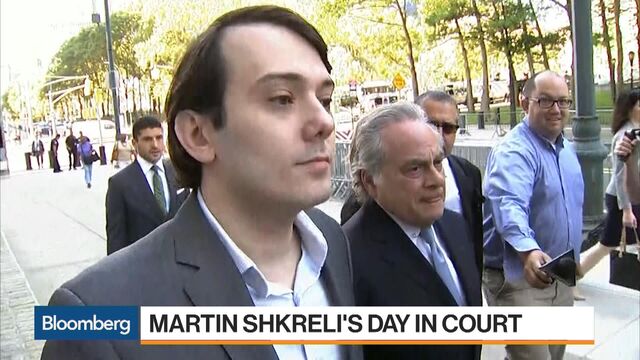 A parade of investors has taken the witness stand in a Brooklyn court over the past three weeks to testify against Martin Shkreli in his criminal fraud trial, some claiming he lied to them, others complaining about sexual comments he made.
But no one said they lost money investing with the former pharmaceutical executive.
Shkreli's lawyers urged jurors right from the start to keep an open mind because their client is "weird" and since then focused on a "no harm, no foul defense." Prosecutors have been painting a portrait of a deceitful young man who would go to any lengths to persuade investors to trust him with their money, including lying about how much money he managed and making suggestive comments in an effort to endear himself.
Giving Shkreli a pass because he made his clients money would send the wrong message to hedge fund managers on Wall Street looking to recruit investors, said James Goodnow, legal analyst with Fennemore Craig P.C.
"Some would argue that it functionally sanctions lying and misleading investors so long as no one is hurt -- further perpetuating the toxic culture many already associate with parts of Wall Street," he said.
Retrophin Stock
Shkreli managed to turn investors' money into profits by paying them back with stock in Retrophin Inc., a drug maker he started. Darren Blanton, who said he invested $1.25 million in Shkreli's hedge fund, got $1.6 million back and 150,000 Retrophin shares, currently worth about $2.9 million.
"Jurors are not legal robots; they are human beings and want the decisions they make to comport with their sense of fairness," Goodnow said. "By focusing on the fact that investors made money, Shkreli's lawyers evidently believe it will make acquittal more likely."
The jurors are also being shown that Shkreli was shuffling money between his funds and Retrophin, without the investors' knowledge or consent. He's accused of running a Ponzi-like scheme, starting Retrophin with money people put into the hedge funds, and then paying them off by looting the drug maker of $11 million. The 34-year-old, who's been described as a whiz kid, faces as long as 20 years in prison if convicted.
Read More -- Why Shkreli's on Trial When Investors Didn't Lose: QuickTake Q&A
As the judge will point out to jurors before they begin deliberations -- probably in mid August -- people can be guilty of securities fraud if they induce investors to buy or sell on the basis of false information. Shkreli often exaggerated to potential clients how much money he managed in the funds, Caroline Stewart, a former analyst at his fund, testified.
He boasted he managed as much as $100 million. In reality, prosecutors said, the net asset value of one of the funds, MSMB Capital, fell to minus 33 cents at one point.
'Hooking Up'
Prosecutors pressed those claims with many witnesses but also veered somewhat off course -- such as telling jurors that Shkreli repeatedly brought up the idea of "hooking up" with random men in an attempt to get close to a gay investor.
"I felt to some extent that maybe he was saying those things to me more because he felt I wanted to hear them," the investor, Steve Richardson, testified.
Prosecutors were trying to show that Shkreli was manipulative in all that he did, according to Philip Anthony, Chief Executive Officer of DecisionQuest Inc.
"They would like to show Shkreli as a person who toys with the emotions and behaviors of others, as demonstrated in his dealings with clients," he added.
Goodnow said that testimony was more like a soap opera than a securities fraud trial though.
It was "a line of questioning that seems more like the People's Court than the U.S. District Court," he said.
Before it's here, it's on the Bloomberg Terminal.
LEARN MORE