business
Retrophin's Records 'Chaotic,' Accountant Tells Shkreli Jury
By and
Shkreli billed firm for Starbucks, casino trip, witness says

Review revealed items as Retrophin prepared to go public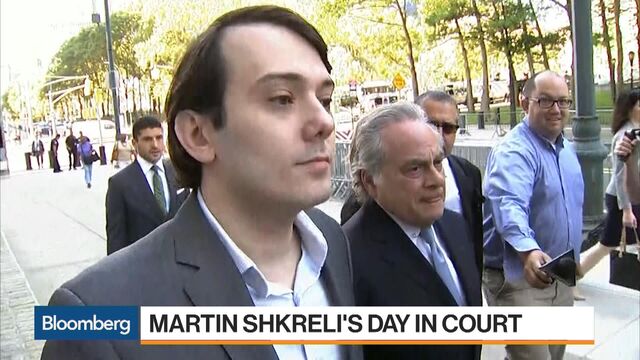 Martin Shkreli charged Retrophin Inc. for everything from his Starbucks coffee to a casino trip, according to an accountant who reviewed the startup's finances as it prepared to go public and described them as "chaotic."

Shkreli, who ran Retrophin from 2011 to 2014, put his sister on the company payroll, charged a $4,130 trip to the Borgata casino in Atlantic City, New Jersey, on his corporate credit card, and gave himself a lump sum payment of $575,000 identified as "compensation," accountant Corey Massella told federal jurors at Shkreli's criminal fraud trial in Brooklyn, New York.
Massella testified Monday that his firm was hired in 2012 to review Retrophin's books and records and prepare it for the regulatory filings needed to take the company public. He said he and staff soon found they had to comb through dozens of charges on Retrophin corporate credit cards for expenditures ranging from $1 to thousands of dollars in unexplained transactions.
"Initially, we were just trying to figure out where the cash had gone," Massella said. "They were very chaotic. Nothing had been put in with explanation. A lot of very, very small entries that came from debit cards, cash transactions that were de minimis, for $1, $2, $3."
Personal Charges
Many of the entries were "personal in nature," Massella said. "So we had to carve out what pertained to the company."
Shkreli, 34, is on trial over accusations he operated his hedge funds and Retrophin as Ponzi schemes. After one hedge fund imploded in 2011, prosecutors say Shkreli used remaining assets to launch Retrophin and later took $11 million out of the startup's coffers to repay his hedge fund investors.
Massella said what he thought would be a rudimentary review of Retrophin's books soon dragged on for months as accountants attempted to untangle the company's finances. The relationship frayed, and by 2013 Shkreli had resorted to insults, according to emails shown to jurors.
"Do you know you're an incompetent idiot?" Shkreli wrote in a May 2013 email to an accountant who worked for Massella. 
Massella said the review was complicated by Shkreli's constant changes to the allocation of company shares to different individuals. Each revision affected how U.S. Securities and Exchange Commission filings would be prepared, Massella said. In one change, Retrophin's co-founder Marek Biestek inexplicably transferred 4,167 shares to Shkreli in November 2012 without explanation, according to a table shown to jurors. 
"Everything kept changing continually," Massella said.
Salary Questions
Massella said he didn't know if Shkreli ever repaid Retrophin for some of the personal charges but was assured by Retrophin employees that he'd done so. The recriminations mounted as Massella's team asked for records to justify certain charges. Shkreli's employees delayed providing documentation, he said.
In March 2013, accountants questioned Shkreli's $575,000 cash payment to himself, noting in a follow-up email the next month that the former CEO's salary was $250,000. Shkreli replied that the amount includes "pay and bonus pay," and told the accountants he would send a breakdown, according to copies of the emails shown to jurors.
The questions from accountants continued, eventually triggering a heated response from Shkreli's sister, Leonara Izerne.
"This is the sloppiest work I have every witnessed in my lifetime," Izerne, who was working at Retrophin at the time, wrote in a May 2013 email. Shkreli agreed, telling one of Massella's colleagues that the firm "has done an awful job for us and has caused irreparable damage."
Massella said his firm eventually worked out a settlement with Shkreli and completed the preparation work for Retrophin.
As the fraud trial entered its fourth week Monday, prosecutors also called John Neill, a Dallas, Texas-based businessman who said he had 30 years of experience investing with hedge funds. He testified that he put $500,000 into Shkreli's MSMB Capital fund in February 2011.
Just before Shkreli announced he was closing the fund in September 2012 to launch Retrophin, the defendant told Neill his investment had swelled to almost $650,000. Neill said he rejected Shkreli's offer to roll his hedge fund investment into Retrophin.
Neill said he waited four months for his redemption only to learn that his $500,000 investment -- which Shkreli once claimed topped $756,000 -- had fallen to about $444,000. Shkreli also said Neill's hedge fund stake was now accounted for as 94,000 shares in the startup. 
"I had a lot less money than I thought I had, and I had supposedly some shares in a company that I didn't know what they were worth," Neill said. "I was not a happy camper."
Shkreli later offered Neill 50,000 more shares of restricted Retrophin stock, Neill testified. But the shares never materialized after he asked Shkreli to donate the stock to a Dallas-based charity for underprivileged children.
Despite the conflicts with Shkreli, Neill said he was finally able to sell a portion of the stock a year later for about $715,000.
(
Adds former Shkreli investor saying he was "not a happy camper.".
)
Before it's here, it's on the Bloomberg Terminal.
LEARN MORE