Qatar Fund Seeks U.S. Deals In Defiance of Gulf Crisis
By and
Fund is said aiming to show crisis isn't impacting dealmaking

Analyst says companies may hesitate to deal with Qatar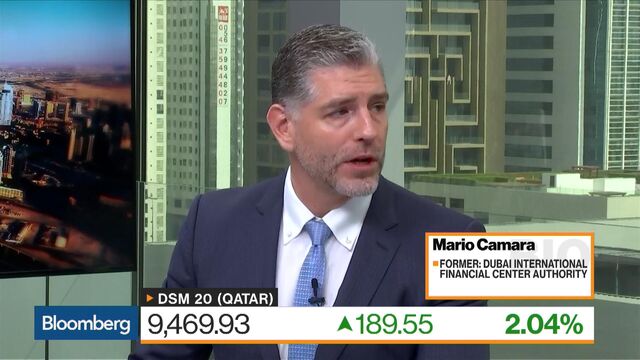 Qatar's sovereign wealth fund is pressing ahead with plans to invest in the U.S. to show that the political crisis with Saudi Arabia and its allies hasn't impacted its ability to strike global deals, according to four people with knowledge of the matter.
The Qatar Investment Authority is working to identify possible acquisition targets, the people said, speaking on condition of anonymity because the talks are private. Areas of interest include infrastructure and technology, two people said. A spokesman for QIA declined to comment.
While Qatar has earmarked $35 billion for American investments -- and already spent more than 50 percent of that amount -- more deals could help improve ties with the U.S. after President Donald Trump publicly sided with the Saudi alliance. U.S. companies, however, may hesitate to do business with the world's biggest exporter of liquefied natural gas until the dispute is resolved, said Jason Tuvey, a London-based economist at Capital Economics.
"Some companies worry that going into high-profile investments with Qatar might damage their own reputations," he said on Monday. "Those will certainly be willing to do business once the crisis deescalates because Qatar has shown no serious financial stress."
U.S. Allies
Saudi Arabia, the United Arab Emirates, Bahrain and Egypt severed diplomatic and transport links with Qatar on June 5, accusing the sheikhdom of supporting Sunni extremist groups and Iranian-backed militants. Qatar has repeatedly denied the charges.
The dispute pits U.S. allies against each other in a struggle over political dominance in a region that controls about a fifth of global oil supplies. Qatar boasts one of the world's largest sovereign wealth funds, with stakes in companies from Glencore Plc to Barclays Plc. The small peninsular nation also hosts the regional headquarters for U.S. Central Command, which includes a state-of-the-art air base the Pentagon depends on to target Islamic State.
Both sides of the conflict have sought to influence the U.S. The U.A.E. ambassador to Washington, Yousef Al Otaiba, said Qatar shouldn't be allowed to hold stakes in the Empire State Building and the London Shard and "use the profits to write checks to affiliates of al-Qaeda."
Aircraft Deal
But shortly after the boycott went into effect, Qatar signed a deal to buy 36 F-15 aircraft in a deal valued at $12 billion. Qatari officials took to U.S. airwaves to highlight the country's strong ties with Washington.
The QIA was on an expansion drive before the crisis broke out. In March, officials said the fund, already present in New York, would soon open an office in San Francisco to focus on the technology industry.
— With assistance by Mohammed Sergie
Before it's here, it's on the Bloomberg Terminal.
LEARN MORE