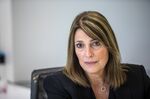 No one likes broadcast TV companies nowadays. Kids in thrall to their smartphones just don't watch as much television as their parents did, and never will. Broadcasters' grip on advertising dollars has weakened as the internet's share has risen.
That's the perception Carolyn McCall will have to fight when she takes the helm of British broadcaster ITV Plc in January.
Coming off a successful seven-year stint at budget airline EasyJet Plc, McCall clearly has the management chops to run the U.K.'s largest commercial broadcaster. Whether she's persuasive enough to convince investors that ITV is more than a declining legacy business remains to be seen.
She's taking over at a tough time. ITV's net advertising revenue fell last year for the first time since 2012, according to Bloomberg data, as big U.K. corporates dial back on marketing because of economic weakness and Brexit uncertainty.

It would help if McCall finished the diversification job started by her predecessor Adam Crozier by beefing up ITV's program production business. Crozier did well to build ITV Studios by acquisition: it accounts for nearly half of group revenue and helps insulate against the advertising cycle.
McCall should go further. ITV Studios should expand in scripted television shows, which are more valuable on the syndication market than the reality shows ITV is known for. This may mean being bolder on acquisitions and more relaxed about shareholder returns.
Crozier walked away last year from buying Entertainment One Ltd., owner of Peppa Pig, because of price. One wonders if he could've been more persistent. The deal would certainly have increased ITV's content options and given it real weight in production. Instead it has stuck with smaller deals and paid out 98 percent of cash in dividends in 2015 and 72 percent last year, according to Citigroup.

While McCall shouldn't simply throw money at any old shop that makes good TV shows, such deals have a potential side benefit: making ITV itself more attractive as a takeover target. Such hopes have supported the share price for a while, especially given the 9.9 percent stake owned by John Malone's Liberty Global. 
Potential buyers would no doubt be more drawn to ITV's content production skills than the old-fashioned TV broadcasting business. Even as investors proclaim the death of TV, everyone under the sun wants to make shows. Netflix Inc. is spending an eye-watering $6 billion on developing and buying shows this year, and tech giants from Facebook to Amazon are pouring money into video. 
So McCall's best line of attack is surely taking the Crozier approach, but ratcheting things up a notch on the production push. As a director might say to the ham actor, "once more with feeling."
Before it's here, it's on the Bloomberg Terminal.
LEARN MORE