KKR Elevates Next Generation, Prepares for a Future Without Its Founders
Melissa Mittelman and Devin Banerjee
Nuttall, Bae named as co-presidents with day-to-day oversight

Alex Navab, head of PE in Americas, leaves firm after 24 years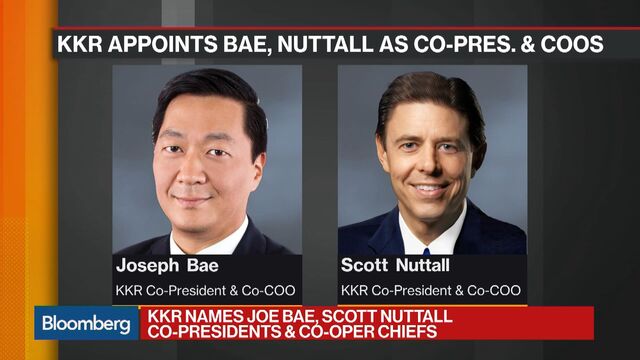 KKR & Co., the storied buyout firm named for its founders, is preparing for a day when those leaders are no longer at the helm.
The firm on Monday elevated Scott Nuttall and Joe Bae, two veteran executives in their 40s, to the newly formed roles of co-presidents and co-chief operating officers, responsible for day-to-day operations of KKR. The pair also will join KKR's board of directors. Cousins Henry Kravis and George Roberts, the co-founders who helped turn leveraged buyouts into the industry it is today, will remain co-chief executive officers and co-chairmen, the New York-based firm said in a statement.

Amid the moves, KKR said Alex Navab, its head of private equity in the Americas and one of the most senior dealmakers in the industry, decided to leave.
"Today's announcement is about the future and ensuring we have the right team and leadership structure to serve our clients and partners for decades to come," said Kravis and Roberts, who are both 73. "Having joined the firm together over 20 years ago, Joe and Scott have a strong foundation of trust, professional respect and personal friendship that is critical for success."
KKR -- formed in 1976 by the cousins and Jerry Kohlberg, who left in 1987 and died at age 90 in 2015 -- is the latest private equity firm to promote younger executives in preparation for succession. While Blackstone Group LP hasn't shaken up its c-suite since co-founder and Senior Chairman Pete Peterson retired in 2008, it has bolstered its board in recent years with younger dealmakers Jon Gray and Bennett Goodman.
Carlyle, TPG
Carlyle Group LP, like KKR, uses a co-CEO model, and in 2011 named Glenn Youngkin as chief operating officer. Youngkin, now 50, added the title president in 2014. Washington-based Carlyle also hired Kewsong Lee from Warburg Pincus in 2013 to be deputy chief investment officer for private equity, and Lee has since added other roles within the alternative-asset manager.

TPG, the buyout firm founded by David Bonderman and Jim Coulter, brought in former Goldman Sachs Group Inc. executive Jon Winkelried in 2015 to be co-CEO alongside Coulter, 57. Bonderman, 74, now serves as chairman.
In their new roles, Nuttall and Bae will help manage a firm that oversees $138 billion in private equity, infrastructure, real estate, credit and hedge funds and also provides capital markets services. KKR said Bae will focus on its private equity businesses across corporate, energy, infrastructure and real estate. Nuttall will concentrate on credit, capital markets, hedge funds and fundraising, as well as the firm's balance sheet and strategic initiatives.
The promotions are "a solid positive," Citigroup Inc. analyst Bill Katz wrote in a note to clients. "The two already managed collectively about two-thirds of KKR's employee base, suggesting no material change in strategy and/or execution risks. The moves likely further free up Mr. Kravis and Mr. Roberts around client engagement and investment opportunities."
Shares of KKR rose as much as 1.4 percent to $19.51 Monday, extending gains this year to 29 percent including reinvested dividends.
Track Records
Bae, 45, and Nuttall, 44, joined KKR in 1996 and have focused on different areas of its development. Most notably, Bae moved to Hong Kong in 2005 to spearhead the firm's expansion into Asia, where it has raised three dedicated funds with over $19 billion. Its second fund has generated a 21 percent annualized return after fees and its first produced a 14 percent return. Bae returned to New York in 2015.
Nuttall emerged as a leader at KKR as the firm listed on the New York Stock Exchange in 2010, after merging with a publicly traded fund it managed. He has led the firm's quarterly public reporting since then, speaking to shareholders and analysts on behalf of KKR instead of Kravis or Roberts. He's also overseen expansion of the credit, capital markets, hedge fund and fundraising groups, and he's helped develop the investment strategy of KKR's $14.3 billion balance sheet, the biggest among peers.
"They think and act globally," Kravis and Roberts said of the duo. "They embody KKR's core values, and they are two of our most accomplished business leaders, with proven track records of managing large teams, building new businesses and driving value for our fund investors and our public unitholders."
Kravis Q&A: 'Worry About What You Might Lose on the Downside'
Navab's Exit
Navab, 51, was born in Iran and fled the country in 1979 to Greece before emigrating to the U.S. He joined KKR in 1993 and made his name working on media and telecommunications deals before being promoted in 2008 to help oversee the firm's private equity business in North America. His team finished raising $13.9 billion for its latest fund in March, the biggest-ever buyout pool focused on the continent, and his exit is "likely" related to Bae's promotion, Citigroup's Katz said.
Investors in the fund won't be able to take any action related to Navab's departure because a majority of the pool's so-called key men remain in place, according to a fund document obtained by Bloomberg. Key men on the pool include Kravis, Roberts, Nuttall, Bae, Johannes Huth, Suzanne Donohoe, Bill Janetschek, David Sorkin and others.
"Alex has been an outstanding investor and a remarkable leader of our flagship Americas private equity business over the last decade," Kravis and Roberts said, adding that "his management and investment capabilities will benefit any enterprise he joins."
KKR also said Monday that Todd Fisher, its chief administrative officer who's been with the firm since 1993, will leave at year-end to pursue a career outside of investing. KKR said Fisher's move is unrelated to the promotions.
— With assistance by Sabrina Willmer
Before it's here, it's on the Bloomberg Terminal.
LEARN MORE