Cerberus's Remington Debt Fizzles as Trump Cools Firearms Fervor
By
Glut pushes Feinberg's weapons company deeper into junk

Customers slow purchases as threat of crackdown eases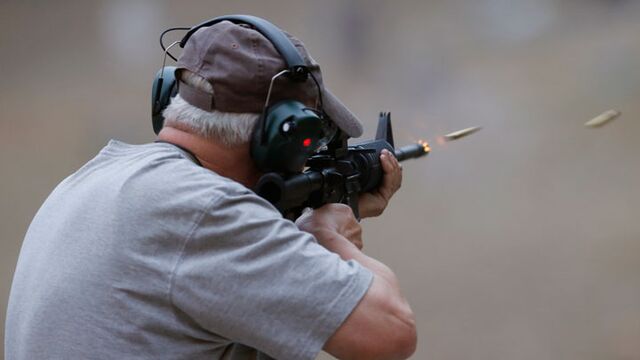 Steve Feinberg's investment in Remington Outdoor Co. is misfiring again.
The billionaire's buyout fund, Cerberus Capital Management, controls gunmaker Remington, which ironically has struggled ever since Donald Trump, the gun industry's self-proclaimed "true friend," was elected president. That wiped out fears of a Hillary Clinton crackdown on firearms, tempered gun sales and drained as much as 36 percent from the value of Remington's bonds. With almost $1 billion of debt maturing over the next three years, the company has warned it might need to restructure if it can't refinance at reasonable terms.
It's the latest headache for Cerberus in its decade-long relationship with the oldest U.S. weapons manufacturer, whose setbacks have included an aborted public offering and an investor revolt after one of its rifles was used in the Sandy Hook Elementary School mass shooting. More recently, the post-election sales slump has left retailers glutted with too many unsold guns and manufacturers with too much capacity.
This also left Remington unsure if it will be able to roll over its $928 million of debts. Its bonds due in 2020 trade at distressed levels with yields quoted well above 30 percent, and Moody's Investors Service says the capital structure needs an overhaul. It's a conundrum for Remington and Feinberg, who counts Donald Trump Jr. among his friends and has advised the president's administration.
"The industry right now is suffering because they built their infrastructure up under the premise that you'd have increased demand," said Kevin Cassidy, a Moody's analyst who downgraded Remington deeper into junk on June 28. "When things changed, they had to right-size their business essentially overnight."
Representatives for Madison, North Carolina-based Remington didn't answer requests for comment, and Cerberus declined to comment. There's no imminent financial crunch, according to Remington's April quarterly report, with management expecting to meet obligations in the near term with its cash, credit line and operating cash flow.

Cerberus, with over $30 billion in assets, bought Remington in 2007 for $118 million and assumed $252 million of debt. The firm has acquired more than a dozen brands including Marlin, DPMS Panther Arms and Barnes Bullets with commercial, military and police customers.
But Remington had to call off plans for an initial public offering in 2011, when it was known as Freedom Group Inc., after failing to fill its chief executive job amid a weak gun market. The next year brought more trouble when a Remington Bushmaster rifle was used in the school massacre in Newtown, Connecticut.
That led some of the firm's biggest investors, including the California State Teachers' Retirement System, to pressure Cerberus to sell the business or buy them out. While Remington wasn't held responsible by authorities for the shooting, Cerberus agreed to the buyout request after struggling to find advisers for a sale. Remington issued debt to buy back some shares from Cerberus, but Feinberg's firm still had a 93 percent controlling stake at year-end.
The gunmaker is now led by Jim Marcotuli, who took the helm in June 2015. Marcotuli rose to the top role after serving as an executive at Cerberus. He's also been CEO of one of the firm's portfolio companies, North American Bus Industries, a maker of vehicles for public transit systems that was sold in 2013.
Trump Connection
Feinberg was on Trump's original list of economic advisers during the campaign and is currently under consideration for a role in the administration. He's an avid hunter and shares the hobby with his friend, Trump's son, Donald Jr.
The elder Trump supports Second Amendment rights and told the National Rifle Association it has a "true friend" in the White House. Counter-intuitively, that's hurting sales. Background checks -- a key indicator of future gun sales -- fell 26 percent from November to June, according to data from the National Instant Criminal Background Check System. They more than doubled to 27.5 million last year from 2008, the year before Barack Obama took office.
That was when Shane Thomas, a retail sales manager at Birmingham Pistol Wholesale in Alabama, decided to reopen his family's gun shop. "It didn't take long for us to go from zero to a profitable business," Thomas said.
Like other retailers, he was stocking up before the November election on inventory, including Remington firearms, on the assumption that customers would rush to buy before Clinton took office and cracked down on gun ownership.
"Now that we have a Republican in office, I've seen it dropping," Thomas said. Since the election, "we've probably dropped 15 percent, and we're lucky -- I'm sure other places have lost a lot more sales."
Remington's first-quarter inventory ballooned 30 percent from year-earlier levels, even as sales plunged 28 percent, and adjusted Ebitda, a gauge of funds available to pay creditors, fell 70 percent. More than half the company's debt matures in 2019 alone. Remington is rated Caa2 by Moody's, with its third-lien 2020 bonds rated Caa3 and quoted at about 58 cents on the dollar last week. They were as high as 92 cents before the election.

Some rivals carry higher grades, with an A+ rating for American Outdoor Brands Corp., owner of Smith & Wesson. Still, they're not immune to the slump. A surprisingly weak forecast from American Outdoor in June sent its shares and those of rival Sturm Ruger & Co. tumbling the most in more than six months. Vista Outdoor Inc., a retailer of sporting equipment, cut its forecast for the year in June, citing excess inventory of guns and ammunition.
"There's a stigma around the gun industry, especially around the makers of assault rifles," Cassidy said. What's more, Moody's says the longer-term threat of increased regulation remains.
Eyeing Targets
Still, opportunities are emerging as more women go hunting. That's boosting new apparel and accessory lines, said Larry Keane, general counsel at the National Shooting Sports Foundation. Remington, famous for its $1,180 Model 700 rifle, also could benefit from smaller, easily pocketed guns as Congress debates treating local concealed-carry permits like drivers licenses that must be honored across state lines. Lawmakers are also trying to loosen civilian restrictions on suppressors, which Remington sells to defense and police customers.
Taken together, signs point to an industry that remains strong by some measures, said Steve Dyer, a Craig-Hallum Capital Group analyst.
"If we were to level off at a level anywhere near here, that would still be extremely healthy," Dyer said. "The death of the firearms industry has been greatly exaggerated."
Before it's here, it's on the Bloomberg Terminal.
LEARN MORE