business
BNY Mellon Appoints Tech-Focused Charles Scharf as Its CEO
By , , and
Under Scharf, Visa saw its share price more than double

BNY Mellon has invested heavily in technology to cut costs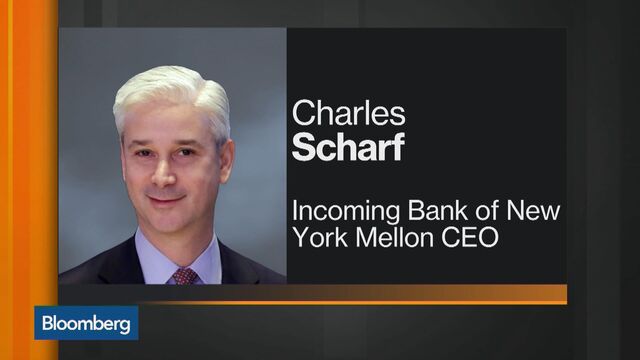 Charles Scharf worked with Apple Inc. and Google to turn Visa Inc. into a tech-savvy competitor.
Now, as the new chief executive officer at Bank of New York Mellon Corp., he plans to keep his focus on technology, pushing the giant custody bank to innovate and stay relevant. Scharf, 52, replaces Gerald Hassell, 65, who will remain chairman of the board through December.
"Technology is always at the center of financial businesses," Scharf said in an interview after BNY Mellon announced his appointment Monday. "We have to make ourselves slightly uncomfortable as we evolve and change. If you don't do it, someone else will."
BNY Mellon, which was founded in 1784 by Alexander Hamilton, has been investing heavily in technology with a goal of automating more of the bank's processes and cutting costs. Scharf, who led Visa for four years until December 2016, introduced new technologies there to improve payment system security and transformed the platform by opening access to its network.
Capable CEO
"We expect him to lead BNY down the path toward further technological and digitization improvements," said Brian Kleinhanzl, an analyst at KBW. "Given his solid track record at Visa, we do view him as a capable CEO."
Hassell led BNY Mellon since 2011, rising up the ranks starting in the early 1970s. In recent years, he responded to the low-interest rate environment by controlling expenses. He moved employees to cheaper locations, sold the bank's headquarters at 1 Wall Street and streamlined technology operations.
Since July 2014, BNY shares returned about 47 percent, including reinvested dividends, compared with 32 percent for the S&P 500 Index and 42 percent for rival State Street Corp. BNY Mellon rose about 1.4 percent to $53.08 at 10:40 a.m. in New York.
"Over the past three years, Hassell has done a good job," said Gerard Cassidy, an analyst at RBC Capital Markets. "It was a challenging environment, especially with low interest rates, and he was able to reduce costs and produce higher profits."
Activist Challenge
Hassell did face a challenge in 2015 from activist investors who targeted BNY Mellon after its performance lagged peers. Marcato Capital Management in March 2015 called for ousting Hassell as CEO. Trian Fund Management took a more collaborative approach. Trian co-founder Ed Garden joined the bank's board of directors and worked closely with management to boost profitability.
Cassidy said he was surprised that the bank chose an outsider to lead it rather than name someone from the senior management team. In hiring Scharf, BNY Mellon is getting a leader who doesn't shy away from publicly challenging rivals.
At an investor conference last year, he warned PayPal Holdings Inc. that Visa would "go full steam and compete with them in ways that people have never seen before" because PayPal was steering transactions away from its network. PayPal ultimately changed its policy.
More on Scharf's management style at Visa here
Under Scharf's leadership, Visa's share price more than doubled, the second-best performance in the Dow Jones Industrial Average, as consumers abandoned cash and checks in favor of electronic payments.
Dimon Protege
Before joining Visa, Scharf worked at JPMorgan Chase & Co. and was considered a protege and possible successor to CEO Jamie Dimon. Scharf oversaw the company's retail bank for nine years through 2011, during which time the unit tripled to 5,300 branches. Scharf later lost his position on the bank's operating committee and was named a partner in its private-equity arm as the retail division grappled with soured mortgages in the wake of the financial crisis.
Scharf's annual target compensation in 2018 will be $16.5 million, including $1.25 million in salary and $15.25 million of incentive pay that's composed of cash, restricted stock units and shares tied to performance, according to a filing. His pro-rated 2017 pay includes a $7.63 million sign-on award. Scharf's annual target compensation in his last year at Visa was $15.9 million.
Hassell's retirement package totals $56.5 million, based on the closing price of BNY Mellon shares Friday. It includes about $39.2 million of equity, which can change depending on the company's performance, and $17.3 million in pension benefits he had accrued at the end of 2016. His annual target for 2016 was $15 million.
BNY Mellon reports earnings on Thursday. As of March 31, it had $30.6 trillion in assets under custody and administration, and $1.7 trillion of assets under management.
— With assistance by Anders Melin
Before it's here, it's on the Bloomberg Terminal.
LEARN MORE