business
U.A.E. Warns of 'Long Estrangement' in Qatar Crisis
THE ASSOCIATED PRESS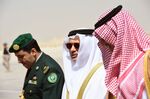 Dubai, United Arab Emirates (AP) -- A top Emirati diplomat has cautioned that a diplomatic standoff between Qatar and its Gulf neighbors could be prolonged.
The United Arab Emirates' Minister of State for Foreign Relations Anwar al-Gargash said the countries "are heading toward a long estrangement" and that crisis is "far from a political solution." He published his comments on Twitter Friday.
The dispute between Qatar, on one side, and Saudi Arabia, the UAE, Bahrain and Egypt on the other erupted more than a month ago. Earlier in the week, U.S. Secretary of State Rex Tillerson was in the Gulf, meeting separately with officials in the region to try and find a resolution to the impasse.
The Arab quartet accuse Qatar of disrupting regional security by supporting Islamist opposition groups and extremists. Qatar denies the allegations.
Before it's here, it's on the Bloomberg Terminal.
LEARN MORE