China Releases Legal Scholar Xu Zhiyong After Four Years in Jail
Bloomberg News
Comes amid outcray over Nobel laureate Liu Xiaobo's death

Release appears unrelated to global outcry over Liu's case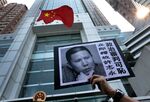 China freed the most prominent dissident jailed under President Xi Jinping, drawing further attention to the country's human-rights record amid an international outcry over the death of Nobel laureate Liu Xiaobo.
Xu Zhiyong, 44, founder of the New Citizens' Movement, was released Saturday after completing a four-year prison sentence for gathering a crowd to disturb the public order, according to a statement on the Beijing Municipal Administration of Prisons website. The legal scholar was detained in July 2013 after calling for the release of fellow activists who'd urged top officials to disclose their assets.
The release had been expected and appeared unrelated to criticism over the treatment of Liu, the Nobel Peace Prize winner who died on Thursday under guard from complications related to cancer. Xu was among the first wave of activists rounded up in 2013 after Xi became president and accelerated efforts to curb criticism of the Communist Party. He was met on his release by his family. Calls to Xu's lawyer Zhang Qingfang went unanswered. 
Official Ire
The loosely knit New Citizens' Movement drew authorities' ire even though they backed policies that appeared to be in line with Xi's campaign against corruption. Several members were jailed for displaying banners, passing out pamphlets or holding meetings amid a wave of reports about the wealth of the party's most powerful officials.
"There's very little room for democracy advocates in China since Xi took office -- too much risk and lots of political pressure," said Teng Biao, a longtime friend of Xu's and a co-founder of the movement. "Lots of people had hoped that Xi could be a driving figure behind changes. They underestimated Xi," he said on Friday from the U.S.
Xu had campaigned for democracy and other political reforms for more than a decade before his detention, petitioning China's top legislature in 2003 for greater protections for rural migrant workers. He helped several Chinese families whose children were sickened by tainted milk in 2009 file lawsuits. 
After a Beijing court rejected his appeal in April 2014, Xu was defiant. "The ridiculous ruling will not stop the tide of the people's progress," he said, according to his lawyer. "The haze of Communist autocracy will fade away."
Xu and Liu were among more than 1,400 political and religious dissidents imprisoned in the country as of October, according to the U.S. Congressional-Executive Commission on China, which said "considerably more" cases have probably not been reported. Liu is the first Nobel laureate to die under guard since pacifist and Nazism critic Carl von Ossietzky's death in Germany in 1938.
— With assistance by Brendan Scott, Keith Zhai, and Ting Shi
Before it's here, it's on the Bloomberg Terminal.
LEARN MORE