Second Russian's Role at Trump Jr. Meeting Raises Questions
By and
Lobbyist had pushed in D.C. for repeal of Russian sanctions

Akhmetshin was Soviet counterintelligence officer, suit said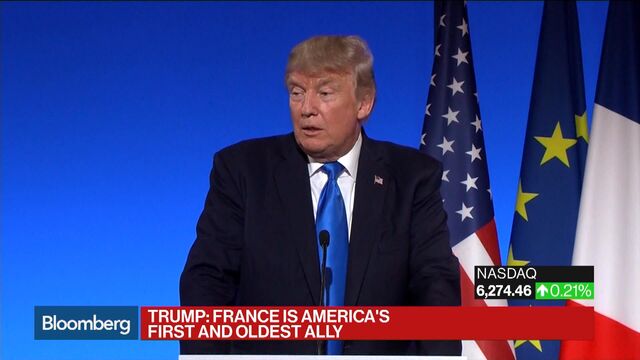 The meeting that Donald Trump Jr. had in June 2016 with a woman billed as a Russian government lawyer included at least one other person with long-standing ties to Russia.
Rinat Akhmetshin, who once served in a Soviet counterintelligence unit, told the Associated Press Friday that he was also there, along with a translator.
The revelation adds to the questions surrounding the now infamous meeting at Trump Tower and the extent of the contacts between Trump associates and Russians seeking to help the 2016 Trump presidential campaign. Trump Jr. didn't disclose Akhmetshin's presence in several public statements on the meeting.

The meeting took place after Trump Jr. received emails suggesting Natalia Veselnitskaya was a Russian government lawyer who would offer incriminating information about Democratic presidential candidate Hillary Clinton from the Russian government. 
Akhmetshin told the Associated Press that Veselnitskaya turned over documents that she believed showed the flow of illicit money to the Democratic National Committee. She suggested the Trump associates make them public. "This could be a good issue to expose how the DNC is accepting bad money," Akhmetshin quoted her as saying. He added that he didn't know if the documents were from the Russian government.
He did not return messages seeking comment.
Registered Lobbyist
Trump Jr. has said the meeting produced no meaningful information. His attorney, Alan Futerfas, didn't respond to requests for comment, though on Tuesday he said that "the meeting lasted about 20-30 minutes, and nothing came of it." In an NBC News interview, Veselnitskaya denied having Kremlin ties and said she never had damaging information on Clinton to share.
Akhmetshin's presence -- and Trump Jr.'s shifting account -- "adds another deeply disturbing fact about this secret meeting,'' said Adam Schiff, the top Democrat on the House Intelligence committee.
Akhmetshin registered as a lobbyist for the Human Rights Accountability Global Initiative in June 2016, saying he worked to restore Americans' ability to adopt Russian children. President Vladimir Putin of Russia halted the adoptions in response to the Magnitsky Act, a 2012 law that imposed sanctions on Russian officials over suspected human rights abuses.
Adoptions
Trump Jr. said when the New York Times broke the news of the meeting with Veselnitskaya, who was known to have worked against the Magnitsky Act, that "we primarily discussed a program about the adoption of Russian children."
A former senior Clinton campaign official said no one on the Democratic candidate's campaign met with Veselnitskaya or Akhmetshin and that campaign officials have no knowledge of being approached by either individual.
In March, Senate Judiciary Committee Chairman Chuck Grassley raised questions about whether Akhmetshin should have registered as a foreign agent for lobbying congressional staffers to repeal the Magnitsky Act.
He was involved in a screening of an anti-Magnitsky Act film -- which Veselnitskaya also worked on -- and told congressional staffers "it was a shame that this bill has made it so Russian orphans cannot be adopted by Americans,'' according to a March 31 letter by Grassley to a top Justice Department official.
Grassley said it was "particularly disturbing'' that Akhmetshin and Fusion GPS, a political research firm, worked on the pro-Russian lobbying effort, given his "history and reputation'' as a former Soviet counterintelligence officer who allegedly specializes in "subversive political influence operations often involving disinformation and propaganda.''
Lawsuit
In November 2015, Akhmetshin was accused in a lawsuit of hacking into a mining company's computer and stealing highly confidential information.
According to the suit by International Mineral Resources B.V, Akhmetshin stole sensitive and confidential materials from the company's computers, information his clients used to "inflict maximum damage" -- including through a suit in the Netherlands that targeted a related firm.
He's described in the lawsuit as "a former Soviet military counterintelligence officer who moved to Washington D.C. to become a lobbyist. While working in Washington D.C., Akhmetshin developed a special expertise in running negative public relations campaigns."
Two months after suing, International Mining Resources withdrew its complaint.
Akhmetshin later sought to recover costs associated with the litigation. U.S. District Judge Gladys Kessler in Washington awarded him $85,825 in costs and fees in a decision that described him as "an American citizen who provides strategic communications and consulting services to clients worldwide."
In a May 2014 affidavit, Akhmetshin said he provided consulting services for clients ranging from "private citizens to corporate entities to sovereign governments." He said he worked with a national government that wanted to help with American military base relocations on territory in the former Soviet Union. 
Save Lives
"We worked quite closely with the Defense Department, the State Department, and the Department of Justice to locate strategically significant base locations," he said. He also worked on issues relating to narco-trafficking, drug eradication and terrorism in Afghanistan, as well as "surveillance of undercover agents and suspected undercover agents," according to the filing.
"I have been told that our efforts have helped save American lives," particularly in Afghanistan, where he helped reduce the flow of narcotics, the filing said. 
He was also retained by law firms with Russian and Central Asian disputes, he said. In the litigation with the mining company, he consulted on "legal, social, economic and political realities in that part of the world," according to the filing. He also said he isn't a computer specialist and isn't capable of hacking.
— With assistance by Ben Brody, Bill Allison, Bob Van Voris, and Sophia Pearson
Before it's here, it's on the Bloomberg Terminal.
LEARN MORE