charted
Poverty in Italy Is Soaring
Those who have the least are hurting the most after a record-long recession.
By and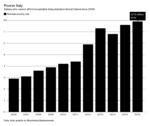 Italy's absolute poor, or those unable to purchase a basket of basic goods and services, reached 4.7 million last year, up from almost 1.7 million in 2006, national statistics agency Istat said Thursday. That is 7.9 percent of the population, with many of them concentrated in the nation's southern regions. The numbers rose because of a record-long recession.
(
The subhead has been corrected to make clear Italy is not currently in a recession.
)
Before it's here, it's on the Bloomberg Terminal.
LEARN MORE