Post-Shkreli CEO Says He Endured Insults While Fixing Damage
By and
'He went on the war path,' says Retrophin's Steve Aselage

Executive is 13th witness to testify at Shkreli's fraud trial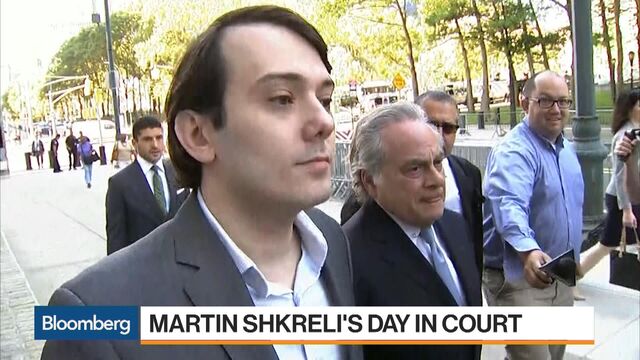 Martin Shkreli's successor as head of Retrophin Inc. said he found himself running a drug company in dire financial condition while fending off threats and insults.
Steve Aselage said Retrophin's board of directors removed Shkreli in September 2014 after he defied their requests to stop doing things that were harming the company. He said Shkreli was burning through cash, secretly running a hedge fund inside the start-up, and trading its stock during periods when insiders were prohibited from doing so.
Then, Aselage told a jury in Shkreli's fraud trial, he got a phone call from Shkreli a few days after his ouster.
"He went on the war path," Aselage, 66, said. "He told me that I'd be subjected to unremitting litigation and my family would suffer as a result of our actions."
Shkreli, 34, is accused of operating Retrophin and his hedge funds as Ponzi schemes. Prosecutors say after his funds imploded in 2011, Shkreli took investors' money without their permission to start Retrophin, and later used $11 million from the drug company without shareholder approval to repay the funds' investors.
Why Shkreli's on Trial When Investors Didn't Lose: QuickTake Q&A
For months before Shkreli was ousted, the company was teetering, just two financial quarters away from running out of cash, Aselage said. The board was concerned about a series of "red flags" about Shkreli's behavior, including his possible disclosures of nonpublic information on Twitter, he said.
"The company was in substantial trouble," he told the federal court jury in Brooklyn, New York, Friday. "Retrophin had $38 million in cash and $83 million in debt and burned through $16 million in cash in the previous quarter."
Retrophin has gotten back on track, Aselage testified, noting that it has market value of more than $700 million, compared with $240 million when Shkreli left.
Shkreli had also rebuffed the board's concerns that he was allowing employees to buy and sell stock with company funds, Aselage said. Shkreli claimed he was trying to train them.
"He was like a mother lion teaching his cubs to kill," Aselage said.
Shkreli tried unsuccessfully to overthrow the board and regain control of the company, Aselage said.
Retrophin unearthed some troubling news after an internal investigation was started in the fall of 2014, Aselage said. It found that Shkreli let employees take a $2.5 million short position in a pharmaceutical stock after being warned he could only trade up to $50,000, he said.
Cross-Examination
During cross-examination, Shkreli's lawyer Benjamin Brafman tried to undermine Aselage's credibility. He suggested the real reason for Shkreli's ouster was that the board tried to gain control of Retrophin and avoid paying him millions of dollars in compensation. Retrophin also sued Shkreli, claiming he engaged in self-dealing and seeking $65 million in damages. 
Aselage told jurors the board had concerns beyond Shkreli's tweeting -- or doing things like paying $10,000 for tickets to a Jay-Z with Retrophin's money.
"While he was doing some very good things, he was also doing some very bad things that were the tip of the iceberg of what we knew -- the rap concerts, the nonpublic information tweets," he said. "What he did well doesn't make him less accountable for what he didn't do well."
Shkreli is "stunningly smart," but only turns on his "people skills" if he wants something, Aselage said.
"There's also a lot of self-aggrandizing, a lot of ego that comes out of Mr. Shkreli," he said. "Day-to-day, he doesn't view people as important if they don't fit into the scheme of what he wants."
The case is U.S. v. Shkreli, 15-cr-0637, U.S. District Court, Eastern District of New York (Brooklyn).
Before it's here, it's on the Bloomberg Terminal.
LEARN MORE