Democrats Up the Pressure on Republicans to Speak Out on Trump-Russia Probes
By
Waters seeks FinCEN suspicious activity reports, records

Resolution follows lack of response from Hensarling, Mnuchin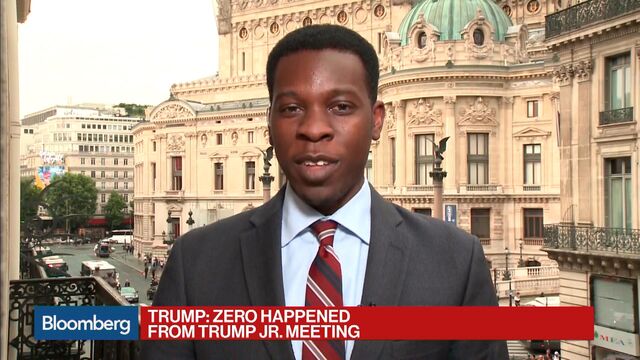 House Democrats, increasingly frustrated by Republican lawmakers who haven't pressed to learn more about links between President Donald Trump's circle and Russia, are turning up the heat.
The lawmakers are attempting to force the House's majority members to say publicly whether they support inquiries into possible financial connections between Russian banks and Trump officials and associates. Democrats on House committees for foreign affairs, homeland security, transportation and others announced the effort on Friday morning, days after the revelation that the president's son accepted a meeting last year with a Russian lawyer on the promise that she could offer damaging information about Hillary Clinton.
One of the so-called resolutions of inquiry filed Friday came from Representative Maxine Waters of California, the ranking member of the House Financial Services Committee. It calls on the Treasury Department's Financial Crimes Enforcement Network, known as FinCEN, to provide Congress with suspicious activity reports or any other records connecting the president, his family and closest advisers with Russian banks, Deutsche Bank AG or Bayrock Group LLC.
Deutsche Bank has made loans to Trump, and Waters has sought internal reviews that would paint a more detailed picture of the bank's relationship with Trump and his family. Bayrock, a real estate development firm that did business deals with Trump for years, was led in part by Felix Sater, a convicted felon who U.S. prosecutors linked to Russian and American organized crime.
By introducing the request in the form of a resolution, Waters is attempting to force Jeb Hensarling, the Republican committee chairman, to declare whether he supports the inquiry. Under congressional rules, if the committee chairman doesn't take action within 14 days, the motion moves up to the House floor in a privileged position, which means it is supposed to get an up or down vote from the entire chamber.
In March, Waters called on Hensarling to conduct an investigation of Deutsche Bank's anti-money laundering practices, with an emphasis on a "mirror trading" scheme that allowed wealthy Russian clients to move $10 billion out of Russia over several years. Waters expressed concern that Trump's own loans from Deutsche Bank might complicate the Justice Department's probe of the Russian trades. Hensarling didn't respond to the request.
How 'Mirror Trades' Moved Billions From Russia: QuickTake Q&A
Since then, Waters has written to U.S. Treasury Secretary Steven Mnuchin and Deutsche Bank Chief Executive Officer John Cryan, requesting more documents related to Trump and the mirror trades. Mnuchin didn't respond. The bank's lawyers argued they weren't allowed to share sensitive client information with individual members of Congress without being compelled by subpoena.
"Unfortunately, our requests to Chairman Jeb Hensarling that he utilize the investigative powers of the committee to look into matters pertaining to Donald Trump and his financial dealings have been completely ignored," Waters said Friday. "This is not a chairman who is shy about using the oversight powers of the committee. Simply put, the chairman is covering for the president and elevating party over country. Our Republican colleagues must wake up."
Hensarling didn't immediately respond to a request for comment placed to his office. The Treasury didn't immediately respond to a request for comment.
Waters' resolution casts a wide net, asking not only for records connecting Deutsche Bank to Trump and his family, but also for any records connecting the president's family and closest advisers to Russian banks whose names have emerged in media reports relating to Trump associates -- including Vnesheconombank Group, Sberbank, Alfa Group, VTB Group and Gazprombank.
The resolution also calls for records connecting these banks with various Trump properties. It also asks for information linking these parties to a casino on the U.S. island of Saipan that is operated by a Hong Kong company run by a former Trump casino executive.
(A previous version of this story was corrected to reflect that Donald Trump Jr. disclosed emails this week about last year's meeting with a Russian lawyer.)
Before it's here, it's on the Bloomberg Terminal.
LEARN MORE