Even Hal Steinbrenner Didn't See Aaron Judge's Breakout Coming
By
Yankees managing partner says team is profitable and thriving

Steinbrenner family isn't considering sale of MLB franchise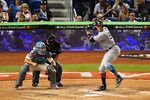 New York Yankees managing general partner Hal Steinbrenner said even he's surprised by the accomplishments and appeal of rookie outfielder Aaron Judge, whose performance at the All-Star home run derby cemented his place among baseball's newest stars.
"We knew what the potential was, but nobody would've predicted that he'd be having this kind of rookie season," Steinbrenner told Bloomberg's Business of Sports podcast. "He's having, at this point, an MVP-type season. We'll see what the second half brings."
Heading into the second half of the season, Judge is leading the league with 30 home runs, a .329 average (fifth best) and 66 runs batted in.
That performance, along with several other young, talented Yankees, are energizing fans in the stadium and in front of the TV. The team's attendance is up this year and second-best in the American League. Some of those 39,579 fans are sitting in the new "Judge's Chambers," a right-field section decorated to look like a courtroom's jury box.
Steinbrenner said on the podcast that the Yankees are profitable, though he wasn't specific. He also declined to speculate on the team's worth -- Forbes puts it at $3.7 billion, the second-most valuable sports franchise in the world -- saying it would only matter if the club was for sale.
"There's no plans to sell," he said. "I have nieces and nephews who are involved and one day my kids will be."
Judge, 25, has become the most high-profile of a slew of young Yankees, including 24-year-old catcher Gary Sanchez, 23-year-old pitcher Luis Severino, 24-year-old infielder Ronald Torreyes and injured 20-year-old infielder Gleyber Torres. They've helped New York to a 45-41 record, second to the Red Sox in the American League East and tied with the Tampa Bay Rays in the wild card race.
Altogether, the team is finding new resonance with fans. The average TV audience for Yankees games on the YES Network is up 57 percent from last season, marking the channel's highest first-half viewership for the team in five years. Much of the interest is being driven by Judge, who also occupies the top spot on baseball's list of jersey sales.
"Having a healthy fiscal situation is a big part of any valuation of any company. Ticket sales drive that," Steinbrenner said. "What drives ticket sales? Success on the field. That drives TV ratings," . "We've got to win."
Before it's here, it's on the Bloomberg Terminal.
LEARN MORE