business
Einhorn's Greenlight Adds Toshiba Stake
By
Sees upside once Toshiba exits contracts tied to Westinghouse

Hedge fund firm down 4% in second quarter, 2.8% in first half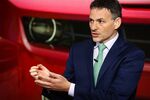 Greenlight Capital, the hedge fund firm led by David Einhorn, took a new stake in Japanese conglomerate Toshiba Corp. during the second quarter.
The firm said in a note to clients dated Friday that it's wagering Toshiba shares will rise once it exits money-losing contracts tied to its Westinghouse business, which filed for bankruptcy protection in March. Greenlight also said it believes Toshiba can resolve a legal dispute over a sale of its memory business that was meant to shore up its balance sheet.
"We believe investors will refocus on the significant margin and valuation upside at Toshiba once it has resolved uncertainties," Greenlight wrote in the letter, a copy of which was seen by Bloomberg News. The stock, which the firm said "is worth closer to 400 yen per share," closed in Japanese trading at 231.6 yen.
The Greenlight hedge funds dropped 4 percent in the aggregate during the period, pushing their first-half return to a loss of 2.8 percent. In the letter, the firm called the second-quarter "a bit of a head-scratcher" as it lost money even though its main long holdings beat or met earnings expectations while its short targets underwhelmed analyst expectations. The S&P 500 Index returned 9.3 percent in the first six months of 2017.
Greenlight also said it exited an "unusually large number of positions" last quarter, including a stake in Liberty Global Plc, saying "recent operating trends weakened."
'Greater Accountability'
The New York-based hedge fund firm cut several shorts. It said it ended a wager against Mallinckrodt Plc, a drugmaker that drew scrutiny in May from short-seller Jim Chanos.
Greenlight also closed decade-long shorts on credit rating companies.
"We incorrectly believed that the agencies would ultimately be held to greater accountability for their malfeasance leading up to the housing bubble in 2008," the firm wrote.
Greenlight said its wagers against a "bubble basket" of momentum-driven technology stocks was "particularly frustrating." It criticized Amazon.com Inc.'s decision to purchase Whole Foods Market Inc. for about $14 billion, and argued that analysts shouldn't compare the trajectory of carmaker Tesla Inc. to that of Apple Inc.
The hedge fund firm also took a hit last quarter in its bet against shares of Athenahealth Inc., an internet-based medical services company, which shot higher after Paul Singer's Elliott Management announced a large stake in May.
"We can't say for certain that no one will buy the company for an inflated price as we have seen bad acquisitions before," Greenlight wrote. "However, we disagree that the math works for a going-private transaction."
The firm said it isn't concerned about investor withdrawals, adding that no outside investor represents more than 2 percent of its assets. Greenlight's main funds are still closed to new investors, even though the firm said it has received requests from clients to add capital.
Greenlight paid back more than $400 million in client withdrawals at midyear, the Wall Street Journal reported on July 13.
(
Updates with returns in fourth paragraph.
)
Before it's here, it's on the Bloomberg Terminal.
LEARN MORE