business
Discounts Doing Little to Lift Americans' Spirits and Spending
By
Consumer prices were little changed while retail sales dropped

Sentiment at weakest since October amid Washington gridlock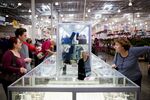 Americans experienced lower costs last month for some services as well as cheaper merchandise that limited receipts at retailers and showed a weaker trajectory for consumer spending entering the third quarter.
While economists projected a slight increase, consumer prices were little changed in June and held back by cheaper home furnishings, cars and clothing. Households also enjoyed modestly priced airfare and hotel stays at the start of the summer, Labor Department data showed Friday.
The discounts on merchandise may partly explain why the Commerce Department's data on retail sales, which aren't adjusted for prices, unexpectedly decreased for a second month.

The back-to-back decline in retail sales, the first since July-August of last year, also show consumers remain hesitant to ramp up their spending as the economy enters its ninth year of expansion.
"Consumers are cautious to spend despite the positive backdrop of upbeat job gains, rising -- albeit sluggish -- wage growth and low interest rates," Gregory Daco, chief U.S. economist at Oxford Economics, wrote in a research note. "Weak consumer spending in June means that momentum heading into the third quarter is fairly soft."
Evaporating consumer optimism suggests moderation at the cash register as well. Sentiment weakened in early July to a nine-month low, according to figures released Friday from the University of Michigan. The latest decline shows post-election buoyancy has been erased amid Washington gridlock around health care and tax legislation.
Today's reports leave Federal Reserve policy makers in a tricky spot. While the central bankers have signaled a willingness to continue a gradual upward adjustment in the Fed's benchmark interest rate, the consumer-price index data called into question what some central bankers have described as a 'transitory' slowdown in inflation. 
The costs of merchandise excluding food and fuel dropped 0.1 percent in June. So-called core goods inflation has declined in 14 of the last 16 months.

While not alarming, the slowdown that's kept inflation below their 2 percent goal threatens to put a pause on their monetary-policy tightening, even as the labor market chugs along solidly.
Several consumer-price categories experienced a third straight decline in June.

What's more, retail demand isn't exactly gangbusters, especially in light of robust job growth. Seven retail categories showed a gain in sales last month compared with 11 at the start of this year.

Brighter prospects might depend on whether wage growth exceeds Americans' paltry expectations. While consumers registered high marks for their current financial conditions, according to the University of Michigan's sentiment report, survey respondents see a rocky road ahead for their pocketbooks. An index of the outlook also slumped, leading to the widest gap between current conditions and expectations since August 2006.

Before it's here, it's on the Bloomberg Terminal.
LEARN MORE