GOP Leaders Plan for Senate to Vote First on Debt Limit, Sources Say
By
Senate will stay in session for two extra weeks in August

Most estimates say U.S. borrowing ability will run out in fall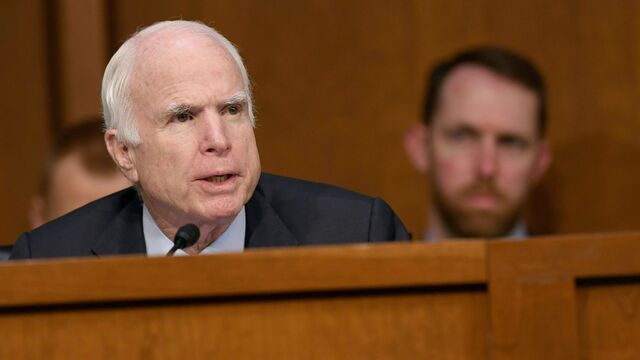 Republican leaders plan for the Senate to move first in August to raise the U.S. debt limit, with the House to act later, two people who were briefed on the plan said Friday.
Senate Majority Leader Mitch McConnell of Kentucky told reporters this week he wants to act on a debt limit increase before leaving Washington for the August recess. A leading option discussed by Senate leadership this week is to tie the debt limit legislation to an extension of a program letting veterans receive medical care outside of Veterans Affairs facilities, one of the people said.
The House would put the debt limit package to a vote in September when members return from their planned five-week August break, according to the second person. While the Senate will stay in Washington for the first two weeks of August, the House would stick around -- or come back -- only if needed to vote on the Republican plan to replace Obamacare.
White House officials have urged Congress not to wait until the last minute to increase the government's authority to borrow money to pay its creditors. The Treasury can fund the government through early to mid-October under the current borrowing limit, the Congressional Budget Office said in late June. 
Many conservative lawmakers balk at raising the debt limit without conditions, but there is little appetite from congressional leaders to risk a default, and they are likely to seek a bipartisan solution. Attaching an unappealing vote like raising the debt ceiling to a more popular bill benefiting veterans would make it an easier pill to swallow for some Republicans.
Members of the conservative House Freedom Caucus said this week that the chamber should also stay in session into August to address the debt limit, among other things. House Speaker Paul Ryan of Wisconsin hasn't publicly expressed the same urgency, but he did promise that Congress would act before the debt ceiling is breached.
"Can we assemble a package before August? Sure," Ryan said last month regarding a debt limit deal. "Do we have to before August? No, we don't have to assemble it before August. But that's the kind of thing we're having a good conversation with our members on."
— With assistance by Steven T. Dennis
Before it's here, it's on the Bloomberg Terminal.
LEARN MORE