Britain's Brexit Chaos Leaves EU Friends and Foes Bemused
By
Ministers openly disagree about negotiating goals and tactics

Elementary blunders undermine reputation for efficiency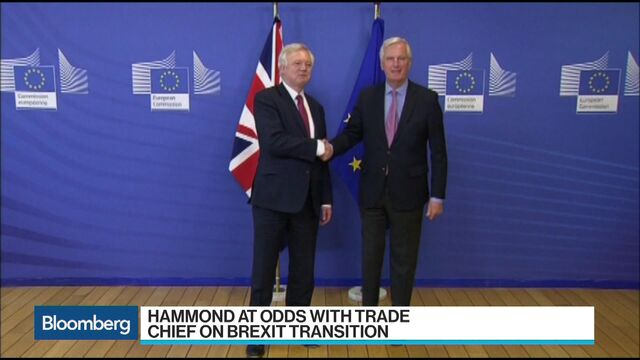 Follow @Brexit for all the latest news, and sign up to our daily Brexit Bulletin newsletter.
Theresa May's goal at this point in the Brexit negotiations was to be a strong British prime minister exploiting divisions between European Union leaders. It hasn't quite worked out that way.
Instead, as Brexit Secretary David Davis heads to Brussels for the second round of negotiations, EU officials and politicians are looking at a Britain where senior ministers openly disagree about their targets and tactics. Elementary missteps and stumbles add further to the impression of a country in chaos.

Read More About the Road to Brexit and Where it Will Hurt the Most
"Our friends are concerned -- and less friendly countries are bemused and astonished -- that the great British machine, which is world famous for efficiency, now seems to be all over the place," said Charles Grant, director of the Centre for European Reform in London. "Britain's name has never been held in lower regard than now in terms of its competence, its ability to organize, its ability to be strategic and influence anything."
If the picture is confusing beyond Britain's borders, it's little clearer close up. The country's politicians have been caught out by two political misjudgments, a year apart.
David Cameron's EU referendum was supposed to settle the European question and silence dissenters in his Conservative Party. Instead it forced Cameron out of office when his gamble backfired and the country voted to leave the EU.
What Just Happened?
May stepped in as his successor and took her own risk -- calling a snap general election to increase her majority only to lose it. That has put her own job on the line and blurred her vision of Brexit. That is being felt on all levels, with arguments and errors.
On Tuesday, Foreign Secretary Boris Johnson told the House of Commons that the EU could "go whistle" if it wanted larger sums from Britain as part of the price of departure. On Thursday, Davis issued a written statement to the same House of Commons, confirming that a payment would be agreed.
Earlier in the day there had been protests in the chamber that the government's flagship piece of Brexit legislation, its Repeal Bill, was accidentally published online before it was presented to Parliament.
The last big document Davis's department produced, the Brexit White Paper in February, contained errors and a datestamp suggesting it was put together at the last minute. The department itself has struggled to recruit talent for what is the political battle of a lifetime.
Wrong Number?
Davis committed his own Brexit blunder the day Article 50 was triggered in March, according to EU and British officials, when he placed a call to Timo Soini, Finland's foreign minister and a critic of the EU. Having been told he was speaking to Soini, Davis announced down the phone in enthusiastic terms that Brexit had begun, and that he needed the Finn's support to secure a good deal from the EU.
Only when he heard the voice at the other end of the line did Davis realize he was in fact speaking to Michel Barnier, the EU's chief negotiator. It was the second time the two men had spoken since Davis was given the job.
The head of the public spending watchdog took the unusual step this week of warning that the government lacked the discipline required -- the kind exercised in the very British sport of cricket.
"It needs to act as far as possible in a unified way," said Amyas Morse, the head of the National Audit Office. "What we don't want to find is that at the first tap, this falls apart like a chocolate orange. It needs to be coming through as uniform, a little bit more like a cricket ball."
'Guaranteed Debacle'
Meanwhile there are disputes among Brexit supporters about whether May's government is up to the task. Dominic Cummings, who ran the official campaign to get Britain out of the EU, has been among the most vocal on Twitter. In June he warned the country was heading for a "guaranteed debacle."
Last week, he turned his attention to the EU's nuclear regulator, Euratom, which has become a political lightning rod with May's critics accusing her of putting the lives of cancer patients at risk by pulling the U.K. out of a treaty whose fate is legally intertwined with Brexit.
While Davis has said Britain may seek some sort of association agreement with Euratom, that could be flummoxed by Britain's own red lines of ending the free movement of EU nationals and escaping the jurisdiction of European courts. Cummings took a different view.
"Govt MORONS say they're withdrawing from EURATOM," he tweeted Monday. "Near-retarded on every dimension: policy/politics/science/bureaucratic. Tory Party keeps making huge misjudgments re what the REF was about."
Surveying the situation, the opposition Labour Party smells blood. Foreign affairs spokeswoman Emily Thornberry, made the most of the government's most recent fumbles.
"We've got a foreign secretary making it up as he goes along, we've got a Brexit secretary so used to overruling his colleagues that he's started to overrule himself, and we've got a prime minister so bereft of ideas she's started putting suggestion boxes around Parliament," she said.
"But as a country we've got 20 months until Brexit and we've absolutely got to get a grip," she added. "If the party opposite does not have the strength for the task, then we've got to get rid of them."
— With assistance by Ian Wishart, and Alex Morales
Before it's here, it's on the Bloomberg Terminal.
LEARN MORE