Yellen on Trump's 3% Growth Goal: 'I'd Love to See It'
By
'I'd love to see it,' though productivity challenges exist

She expresses skepticism at White House's 'MAGAnomics' plan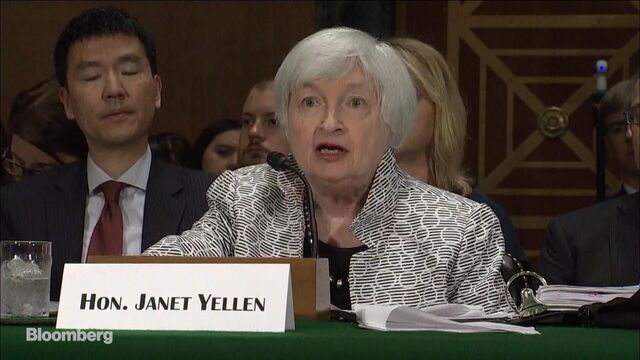 Federal Reserve Chair Janet Yellen said 3 percent U.S. economic growth would be an admirable but difficult feat to achieve over the next few years, casting doubt on the Trump administration's ability to reach that goal with deregulation, infrastructure spending and tax reform.
"It's something that would be wonderful if you can accomplish it -- I'd love to see it," she said in response to a question from Senator Bob Corker, a Republican from Tennessee who asked whether the target is reachable over the next five years. "It would be quite challenging."
Yellen explained that economic growth is the sum of productivity gains and increases in the labor force. Productivity growth is "very hard to move," and a government policy that boosted it just a few tenths of a percent would be a "very good payoff," she said. Given the slow expansion of the labor force, productivity gains would have to exceed 2 percent, according to Yellen. It's averaged about 0.5 percent over the past five years versus 1.1 percent in the past decade, she said.

Her skepticism came the day after Mick Mulvaney, the White House budget director, penned an op-ed in the Wall Street Journal reiterating a goal of 3 percent sustained growth, up from the post-recession average of about 2 percent. To get there, the administration has proposed tax reform, deregulation, a welfare overhaul, new trade deals, more abundant energy resources and government spending restraint.
Three percent growth will lead to $2.9 trillion more in government revenue over the next decade and a $7 trillion boost to workers' salaries, according to Mulvaney.
"The administration has been criticized as unrealistic," Mulvaney wrote. "That's fine with us. We heard the same pessimism 40 years ago, when the country was mired in 'stagflation' and 'malaise."'
The White House's growth plan was dubbed "MAGAnomics," a reference to the acronym for President Donald Trump's political slogan "Make America great again."
— With assistance by Rich Miller
Before it's here, it's on the Bloomberg Terminal.
LEARN MORE