TSMC's Sales Forecast Misses Estimates Despite iPhone Boost
Bloomberg News
A stronger local currency weighed on the bottom line

Investors hoped Apple's new iPhone would galvanize business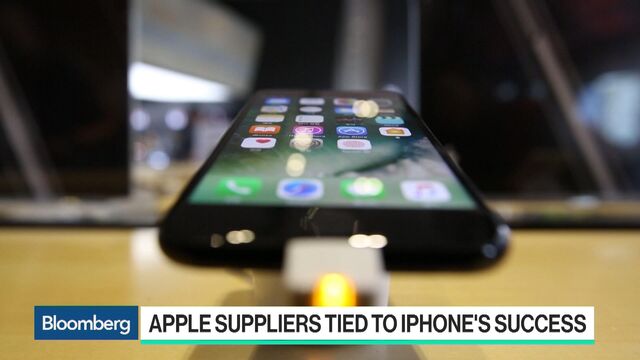 Taiwan Semiconductor Manufacturing Co. forecast quarterly revenue that trailed estimates, dashing hopes that Apple Inc.'s iPhone will help the world's largest contract chipmaker pull out of a smartphone industry slump and avert the impact of a strong currency.
The Taiwanese maker of the iPhone's processors forecast third-quarter sales of $8.12 billion to $8.22 billion, short of the $8.6 billion projected by analysts. That disappointment came after TSMC posted second-quarter profit that also missed, hurt by an industry-wide lull ahead of a 10th-anniversary iPhone -- one of the year's most-anticipated gadgets.
Investors had been counting on a flurry of semiconductor orders ahead of the launch of Apple's latest device, typically around September or October. The U.S. company is TSMC's biggest customer, accounting for about 17 percent of revenue, according to data compiled by Bloomberg. At the same time, global smartphone demand is expected to recover in 2017 from last year's record slump, led by Android phonemakers such as Huawei Technologies Co., a TSMC customer that ranks third in global device sales.
"We expect growth within the Chinese Android camp to be better in the second half, but how much better, that's the question," said Peter Chan, an equity analyst with CIMB Securities.
TSMC's shares slipped as much as 1.3 percent in Germany after the sales forecast. Prior to Thursday's results, its Taipei stock had gained 18 percent this year and hit a record in June, propelled by hopes of an iPhone bonanza. That in turn helped TSMC founder and Chairman Morris Chang become a billionaire at the age of 86.
Read More: IPhone Chipmaker's Rally Mints an 86-Year-Old Billionaire
TSMC had previously reported a 5.3 percent climb in first-half sales to NT$447.8 billion, but Thursday's other forecasts looked soft.
It's predicting gross margins of 48.5 percent to 50.5 percent, versus projections for 50.2 percent. The company is also facing the challenge of a stronger local currency, which erodes the value of overseas sales, and rising competition in chips from Samsung Electronics Co. The South Korean company has been successful at winning business from smartphone makers that rely on Android, the world's most popular mobile operating system.
Global smartphone shipments are only expected to grow 3 percent in 2017, according to research firm IDC. Apple or Android aside, the second quarter is usually a low season for mobile chipmakers. TSMC's net income fell 9 percent to NT$66.3 billion ($2.2 billion) in the three months ended June, lagging the NT$69.6 billion average of estimates compiled by Bloomberg.
The company said it's sticking with a forecast for 2017 capital expenditure of about $10 billion, ramping up and upgrading its lines to meet longer-term demand for the chips used in all mobile devices. TSMC expects a swift and smooth ramp-up to next-generation 7-nanometer chipmaking technology next year. Production yields had so far gone well and ahead of schedule, co-Chief Executive Officer Mark Liu told investors at a post-earnings conference.
TSMC kicked off mass production of its latest 10-nanometer A11 processors in June, which is expected to contribute as much as 10 percent of its revenue by the third quarter, according to Mark Yusheng Lee, an analyst at E Sun Securities. The revenue contribution of A11 processors could reach 20 percent in fourth quarter as the chipset is likely to be used in the next iPhones and iPads, Lee wrote in a report.
"Seven-nanometer is the next show," Chan said. "TSMC is very bullish in that technology and the growth in 10-nanometer is going to continue next year."
— With assistance by Yuan Gao
Before it's here, it's on the Bloomberg Terminal.
LEARN MORE