Trump Won't Say Whether Putin Meddled But Would Host Him in U.S.
By and
President spoke to reporters while traveling to France

Trump reverses conditions to put conversation on the record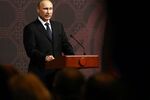 President Donald Trump said he's willing to invite Russian President Vladimir Putin to the White House "at the right time," while repeatedly sidestepping questions about whether he believed Putin's denials of meddling in the 2016 presidential election.
"Look, it's very easy for me to say absolutely, I won't" invite Putin to Washington, Trump told reporters traveling with him aboard Air Force One, according to excerpts of his remarks that were put on the record by the White House on Thursday. "That's the easy thing for me to do, but that's the stupid thing to do. Let's be the smart people not the stupid people."
Trump acknowledged that he doesn't think this is the right moment to invite Putin to the U.S., but that he will do so when appropriate.
Trump's remarks came to light in an unusual fashion. He spent more than an hour talking with reporters aboard Air Force One after leaving Washington Wednesday for the overnight flight to Paris, on condition their conversation wouldn't be published, terms to which the reporters on the plane agreed. Such arrangements aren't unusual. Past presidents also have held off-record conversations under similar circumstances.
But the conditions were reversed hours later by Trump himself. Shortly before his news conference with the French president, Trump asked New York Times reporter Maggie Haberman why she didn't report comments he made during the conversation. When she told him it had been deemed off-the-record by his press staff, he asked whether she had heard him say that it could be considered on-the-record, according to Haberman. Soon after, Trump's press team released excerpts of the conversation -- while leaving out some portions.
Putin Meeting
The president told reporters that when they met at the G-20 summit in Germany he pressed Putin on the issue of Russian meddling in the 2016 presidential election twice and that Putin responded with denials. Asked if he believed those denials, Trump deflected, saying: "I mean whether it's Russia or anybody else, we can't let there be even a scintilla of doubt when it comes to an election. I mean, I'm very strong on that."
In the past, Trump has repeatedly suggested that another nation could have been responsible for the hacking of Democratic Party emails, despite the conclusion of the Central Intelligence Agency, the National Security Agency, the Federal Bureau of Investigation and the Office of the Director of National Intelligence that Russia's government was responsible.
"I'm not saying it wasn't Russia," Trump said. "What I'm saying is that we have to protect ourselves no matter who it is. You know, China is very good at this. I hate to say it, North Korea is very good at this."
But, Trump said he could only push Putin so much. "He said absolutely not, twice. What do you do? End up in a fistfight with somebody, OK?"
Russian Foreign Minister Sergei Lavrov said Trump said "he had heard the clear statements from President Putin about this being untrue, that the Russian leadership did not interfere in the election, and that he accepts these statements."
Secretary of State Rex Tillerson and other U.S. officials stressed that Trump had pressed Putin on the issue at length during their two-hour meeting but would not say if the president accepted Putin's explanation.
Trump has been dogged by the issue throughout his presidency and that's likely to continue for at least the near future. Special prosecutor Robert Mueller is investigating potential collusion between Trump campaign advisers and the Russian government in election meddling. Several congressional committees also are conducting probes.
Trump also recalled the conversation in a Wednesday interview with Reuters without offering much clarity on how he responded to Putin's denials. "I said, 'did you do it?' And he said 'no, I did not. Absolutely not.' I then asked him a second time in a totally different way. He said 'absolutely not,"' Trump said. Asked if he believed Putin's denial of meddling, Trump responded: "something happened, we have to find out what it is."
Before it's here, it's on the Bloomberg Terminal.
LEARN MORE