politics
Trump Says 'Most People in Politics' Would Take Russian Meeting
By , , and
President discusses son's meeting in Paris news conference

'Zero happened' in the meeting, Trump says in son's defense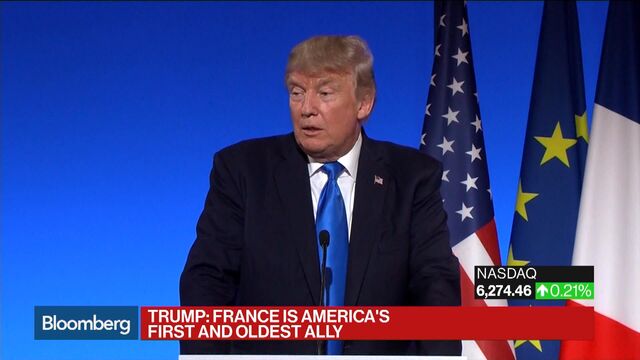 President Donald Trump said his son Donald Trump Jr.'s meeting last year with a Russian lawyer was uneventful and that "most people in politics" would have agreed to it.
"He took a meeting with a Russian lawyer. Not a government lawyer, but a Russian lawyer," the U.S. president said in a news conference Thursday in Paris with French President Emmanuel Macron. "Zero happened from the meeting. The press made a big deal about something that really a lot of people would do."
Separately, Trump suggested to reporters aboard Air Force One that he might have learned of the meeting earlier than the White House has said. In an discussion late Wednesday that was initially off-the-record but made public by the White House on Thursday, Trump said of the meeting: "in fact maybe it was mentioned at some point."
He said, though, that he had not been told that his son was expecting to receive information about the Hillary Clinton at the meeting. White House spokeswoman Sarah Huckabee Sanders said on Monday that Trump had only learned of the meeting "in the last couple of days."

With the New York Times set to publish a story about them on Tuesday, Donald Trump Jr. disclosed email exchanges with a British publicist who brokered the meeting, shortly after his father secured the Republican presidential nomination. The meeting with Russian lawyer Natalia Veselnitskaya also was attended by the president's son-in-law and senior adviser Jared Kushner and his then-campaign chairman, Paul Manafort.
The publicist, Rob Goldstone, described Veselnitskaya as a "Russian government attorney" in the emails and said she would have information from the Russian government that could "incriminate" Trump's campaign opponent, Hillary Clinton. He also described the Russian government as supporting Trump's election.
The younger Trump forwarded the correspondence to Kushner and Manafort prior to the meeting. The emails contradict frequent assertions by Trump and his surrogates that there was no contact between his campaign and Russians and in them Donald Trump Jr. expresses eagerness for help from the Russian government in obtaining information about Clinton.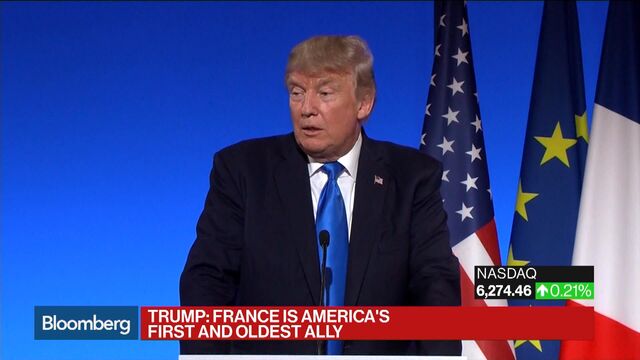 "I think it's a meeting that most people in politics probably would have taken," the president said in Paris.
President's Knowledge
Trump, in an interview Wednesday with Reuters, said he did not learn of his son's meeting, first reported by the New York Times, "until a couple of days ago." He also defended his son in the Reuters interview, saying: "I think many people would have held that meeting."
The revelation of the meeting and the email disclosures provides a new focal point for investigations by congressional committees and special counsel Robert Mueller into whether Trump's campaign colluded with Russian election interference.
The president has called the investigation a "witch hunt" and has questioned the conclusion of U.S. intelligence agencies that Russia was behind the hacking and the release of Democratic Party emails during the campaign.
In an interview with Fox News Tuesday, the younger Trump said that in retrospect he probably would have handled the meeting with Veselnitskaya differently. But at the time, he said, he saw the meeting with the Russian lawyer as an opportunity to obtain vital information on what he referred to as under-reported scandals that could hurt his father's opponent.
Not Routine
Several election law lawyers, Republican campaign operatives and Republican members of Congress said this week there is nothing routine about foreigners meeting with a campaign on such matters.
Republican Congressman Trey Gowdy said he was concerned that so many members of Trump's orbit have failed to provide disclosures of their meetings with Russians before being exposed by journalists.
"If you had a contact with Russia, tell the special counsel about it," Gowdy said Monday on Fox News. "Don't wait until The New York Times figures it out!"
Even Trump's choice for director of the FBI, former federal prosecutor Christopher Wray, indicated that the president's son made the wrong decision when he took a meeting with someone described as a Russian operative with opposition research about Clinton.
"I think it would be wise to let the FBI know," when a foreign power tries to provide information about a political opponent, Wray said Wednesday during a Senate confirmation hearing after being questioned by Republican Senator Lindsay Graham. "To the members of this committee: Any threat or effort to interfere with our election, from any nation state, or any non-state actor, is the kind of thing the FBI would want to know."
— With assistance by Jennifer Jacobs
(
Updates with additional Trump remarks beginning in third paragraph.
)
Before it's here, it's on the Bloomberg Terminal.
LEARN MORE