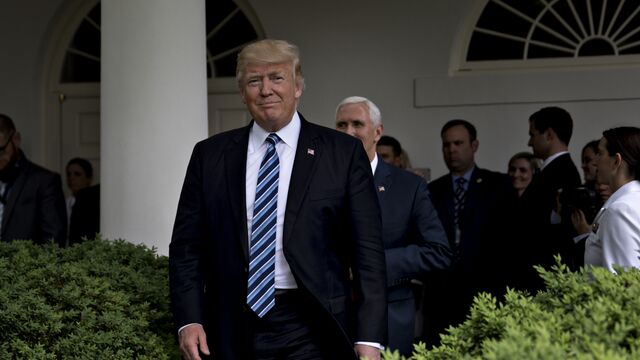 Winning wasn't enough for Donald Trump. His triumph in the U.S. Electoral College made him the 45th president, but he can't seem to accept that Democrat Hillary Clinton captured more total votes. Trump claims fraud on the order of 3 million to 5 million ballots, and he created the Presidential Advisory Commission on Election Integrity, which is to report back on "improper" or "fraudulent" activity. Skeptics sense an effort to make it harder to register and vote. The commission's first action, a broad request for information that drew acid responses from some states, could be halted by a federal judge.
1. What does the commission want?
In a June 28 letter to states and the District of Columbia, the panel's de facto leader, Kansas Secretary of State Kris Kobach, requested, if "publicly available under the laws of your state," the names, birth dates, addresses, political affiliations, felony convictions, military service records and final four digits of Social Security numbers of registered voters, along with which elections they voted in since 2006. The letter also invited opinions on ways to improve the integrity of federal elections, plus information about voter fraud and "convictions for election-related crimes" since 2000.
2. What will it do with all that data?
That's not clear, in part because the commission didn't hold a public meeting until today. Kobach said in May the commission hopes to provide a credible estimate of the "scope of provable voter fraud." In Kansas, he helped create a multistate database of voter registration with the goal of catching voters who try to cast ballots in more than one state. He may look to do that on a wider scale.
3. What's wrong with that?
Critics say the data request is a fishing expedition -- dead people on the voter rolls, non-citizens who cast ballots -- that would help justify a crackdown on voting. Richard Hasen, a professor of law and political science at the University of California-Irvine, predicts Kobach and others will call for a rollback of the 1993 "motor voter" law, which required states to make registering to vote easier by offering it to people renewing their driver's license or applying for government services.
4. Is the commission's request for data legal?
Not according to some civil liberties groups. The Washington-based Electronic Privacy Information Center (EPIC) filed a lawsuit to halt the commission's collection of information until it conducts a privacy impact assessment, which is required under a 2002 law on government use of information technology. The American Civil Liberties Union, in another lawsuit, says Kobach told fellow commissioners of his planned data request during a June 28 phone call that was an unlawful meeting because it was closed to the public and not properly publicized. The Lawyers' Committee for Civil Rights Under Law sued on similar grounds. Still another lawsuit, filed on July 18 by the NAACP Legal Defense and Education Fund at a federal court in New York, asserts the panel was created with the goal of justifying suppression of minority voters.
5. Have the lawsuits had any effect?
Some. On July 10, the commission told the judge in the EPIC case that it had suspended data collection until the court rules. The lawyers' committee lawsuit elicited a U.S. response that included the release of the June 28 call agenda and a readout of introductory comments made by the panel's chairman, Vice President Mike Pence. The commission now has its own web page and promised live streaming of today's inaugural gathering.
6. What's been the response from states?
Unenthusiastic. "There's not enough bourbon here in Kentucky to make this request seem sensible," said Kentucky Secretary of State Alison Lundergan Grimes, a Democrat. Mississippi Secretary of State Delbert Hosemann, a Republican, said residents of his state "should celebrate Independence Day and our state's right to protect the privacy of our citizens by conducting our own electoral processes." There's widespread agreement that some requested data points, especially Social Security numbers, are beyond the pale. Even Kansas, where Kobach's office oversees elections, won't turn over Social Security numbers, citing state law.
7. How big a problem is voter fraud?
The partisan battle lines are firmly drawn. Trump claims he wouldn't have lost to Clinton if not for "millions of people who voted illegally." Though nobody says U.S. elections are completely immune from improper voting, widespread fraud at the scale Trump has suggested lacks substantiation. A report published in May by the Brennan Center for Justice, analyzing information from jurisdictions with the highest populations of non-citizens, found that of 23.5 million votes cast, election officials referred about 30 incidents of suspected non-citizen voting for investigation or prosecution. The Heritage Foundation, which considers voting fraud a more serious problem, has counted 848 criminal convictions for voting fraud from the 1980s to present.
8. Where do Trump's allegations come from?
The notion that 3 million or more votes were cast by non-citizens was put forth a week after the November 2016 election in Twitter posts by Gregg Phillips, a conservative activist who was little-known until Trump tweeted his claim. Phillips hasn't produced any evidence to back it up. Trump and his press secretary, Sean Spicer, also cite a 2014 study published in the journal Electoral Studies and a 2012 report by the Pew Center on the States. But authors of both reports have challenged how the Trump White House is presenting their findings.
9. Why does the commission answer to Trump personally?
Unlike, say, the U.S. Election Assistance Commission (an independent government office that Republicans would like to close), or the 9/11 Commission (created and appointed jointly by President George W. Bush and Congress), the voter-integrity commission was created by Trump in a May 11 executive order. Trump appointed all 12 members.
10. Will the commission be viewed as credible?
That remains to be seen. Some of Trump's appointees "have a record of making exaggerated and/or baseless claims about voter fraud, and/or have implemented or supported policies that have unlawfully disenfranchised voters," the ACLU says in its lawsuit. Kobach introduced new citizenship-documentation requirements for Kansans wishing to register to vote. Other members of the committee include Hans von Spakovsky, a longtime advocate for stricter voter identification laws, and Ken Blackwell, former Ohio Secretary of State, who drew criticism in 2004 for rejecting votes made on paper he said was not the correct weight.
The Reference Shelf
An interactive look at the results of the 2016 election.
Kobach's multistate database reportedly found over five million potential matches, although there's been speculation that the system has a propensity to flag a lot of false positives.
A Brennan Center for Justice graphic of state-by-state responses to the commission's request for voter data.
Trump's commission is a fraudulent response to a real issue, a Bloomberg View editorial argues.
A QuickTake explainer on voting rights.
— With assistance by Andrew M Harris
Before it's here, it's on the Bloomberg Terminal.
LEARN MORE