Shkreli a 'Brilliant Intellect' Says Man Hired to Replace Him
By
Retrophin CEO compares ex-drug executive to Pied Piper

'He sings a song and everyone just wants to follow him'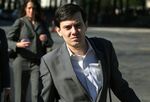 The man who replaced Martin Shkreli as chief executive of the drug company Retrophin Inc., called him a "brilliant intellect" and a Pied Piper who attracted others to follow.
In the third week of Shkreli's fraud trial in Brooklyn federal court, Stephen Aselage, 66, who took over Retrophin when Shkreli was booted in 2014, painted a mixed portrait of the former drug company executive. Shkreli could be energetic and creative, but at other times operated "in a deceitful manner," Aselage said.
"He's a brilliant intellect, a visionary," Aselage told jurors on Thursday. "I had one senior manager describe him as the Pied Piper. He tells stories, he sings a song and everyone just wants to follow him. It was a unique talent." 
Aselage, who was recruited to join the company in 2012 by Shkreli, initially found him engaging and "focused on the grander vision."
"There were times when I thought he did such a good job that investors would write a check for everything they had," Aselage said. "He was bright and very enthusiastic. And other times, he was a little bit not as credible as he could've been."
Shkreli, 34, is accused of operating Retrophin and his hedge funds as Ponzi schemes. Prosecutors say after his fund imploded in 2011, Shkreli took investors money without their permission to launch Retrophin, and later used $11 million from the drug company to repay the investors in the hedge funds.
Aselage said he discovered soon after joining the drug company that its business was intertwined with the hedge funds: same Manhattan offices, same equipment and employees who worked for both companies. He said he was also shocked to realize the company "was running on fumes" after burning through $10 million that'd been raised and that no one had bothered to pay its insurance bill.
"I was struggling to find out what money was owed and to who," he said. While Shkreli had hired him to run the company, Aselage said he felt undermined. He stepped down as CEO in about early 2013 and only returned to the position after Shkreli was ousted.
"I felt the company was being run by Martin Shkreli," Aselage said. "I felt like he really never had any intention of giving me any of the decision-making and authority over to me."
Aselage resumes his testimony Friday.
The case is U.S. v. Shkreli, 15-cr-0637, U.S. District Court, Eastern District of New York (Brooklyn).
Before it's here, it's on the Bloomberg Terminal.
LEARN MORE