markets
Investec Sees a Pretty Cool Summer Ahead for Markets Thanks to Yellen
By
Low inflation lets central bankers push back tightening cycle

Yellen in no rush to turn words into deed: Investec's Stopford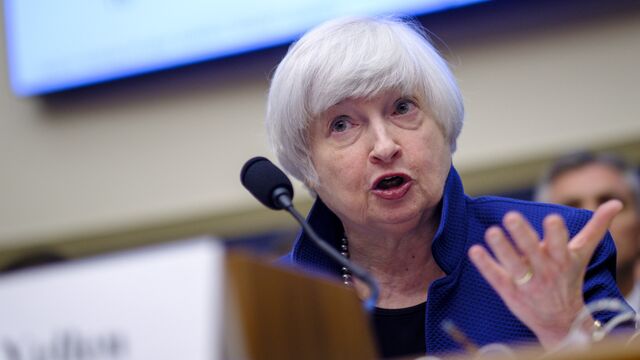 Just when John Stopford thought he was out, they pulled him back in.
The head of multi-asset income for Investec Asset Management's $119 billion of holdings had moved to cut interest-rate risk and reduce emerging-market investments in preparation for a wave of central bank tightening that could harken back to the taper tantrum of 2013.
But after listening to the first of two days of congressional testimony by Federal Reserve Chair Janet Yellen saying the central bank's move to tighter policy should be gradual, he's dipping back into the risk rally, adding interest-rate exposure through longer-duration bonds. On Thursday stock gauges flirted with new records and emerging-market assets gained.
"This is potentially an opportunity to ride the risk rally a little bit longer," Stopford said in a telephone interview on Thursday. "It's definitely right to be moving towards the exits, but you don't want to rush."

Last month, central banks around the world signaled it was time to dismantle almost a decade of accommodative policies amid signs that the global economy was gaining traction. At the ECB's yearly conference in Sintra, Portugal, Yellen's counterparts from the U.K. and Canada indicated they could soon be joining the U.S. in rate hikes, sparking the biggest one-week surge in Treasury yields since March.
However, while the Bank of Canada followed through with its first rate rise in seven years yesterday, the Fed may be less hasty than its northern neighbor. Yellen cited inflation persistently below the Fed's target as a complicating factor in the economic outlook and a path to higher rates.
"Low inflation may dampen their ardor a bit in how quickly they can move," Stopford said. "There's a move toward less policy accommodation but it doesn't feel as if it's very imminent. There is a tactical opportunity to be more risk-seeking, carry-seeking for a while as central banks pause before acting on hawkish rhetoric. You've got a window over the summer."
(
Adds duration bet to third paragraph.
)
Before it's here, it's on the Bloomberg Terminal.
LEARN MORE