business
LeBron James's Bet on Blaze Pizza Gets Private Equity Validation
By , , and
Brentwood Associates joins 'King James' as Blaze investor

Fast-casual chain said to be valued at more than $100 million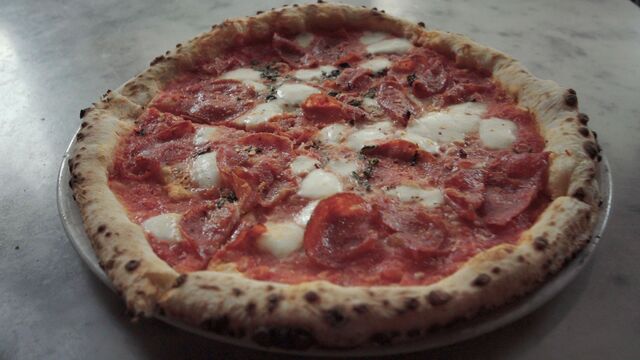 LeBron James, who invested in restaurant upstart Blaze Pizza five years ago, is getting some deep-pocketed company.
The fast-casual pizza chain just sold a "significant noncontrolling" stake to Brentwood Associates, a private equity firm with $2.4 billion under management. The deal was expected to give Blaze Pizza an enterprise value of more than $100 million, said a person familiar with the negotiations.
The deal signals that the basketball star made a smart bet when he backed Blaze, a business that faces a crowded field of fast-casual pizza rivals. The company is the fastest restaurant chain in history to reach 200 locations, according to industry research firm Technomic Inc. At the same time, some of its competitors have been shuttering restaurants and retrenching.
"The Blaze team has done an amazing job growing to 200 restaurants in under five years," Rahul Aggarwal, a partner at Los Angeles-based Brentwood, said in a statement. "They have built a scalable concept with moats around their critically acclaimed chef, high-quality clean ingredients and aggressive brand-building strategies."
Blaze and the private equity firm didn't disclose terms of the deal in the announcement Thursday.
Blaze, based in Pasadena, California, was founded in 2011 by Rick and Elise Wetzel. After rapid growth, the company posted sales of more than $184 million in 2016, according to Technomic. Rick Wetzel also co-founded the Wetzel's Pretzels chain, which was sold to CenterOak Partners last year.
Brentwood has invested in more than 50 portfolio companies since 1984. With the Blaze deal, Aggarwal and Brentwood co-founder and partner Bill Barnum will become directors at the pizza chain. They will be joined on the board by Greg Dollarhyde, who has served as chairman or chief executive officer of eight companies, including a former Brentwood portfolio company. Through the Dollarhyde Investment Group IV, he has also invested in the Blaze transaction.
"We are excited to add Brentwood and Dollarhyde to our investor group as they bring leadership, a network of connections and deep restaurant experience that will simply make us stronger and better," Blaze CEO Jim Mizes said in the statement.
LeBron's Stake
James, the 32-year-old Cleveland Cavaliers forward known as "King James," took a stake in 2012 and owns about 10 percent of the company -- along with an interest in a franchise group that holds rights to Blaze restaurants in Chicago and South Florida. The business ultimately hopes to hold an initial public offering in the next three years, said a person familiar with the matter, who asked not to be identified because the deliberations are private.
Blaze uses an assembly-line system that lets diners customize 11-inch pizzas, alongside offering salads and desserts.
In 2015, James decided to end his marketing relationship with McDonald's Corp. so he could act as a "brand ambassador" for Blaze. The move was emblematic of a growing trend of athletes and entertainers seeking to move beyond the traditional role of pitchmen. In addition to James, Blaze's backers include Maria Shriver; Boston Red Sox co-owner and Liverpool Football Club chairman Tom Werner; Panda Express founder Andrew Cherng; and "Alien vs. Predator" producer John Davis.
Wetzel, a former Nestle executive, has said that he never took Wetzel's Pretzels public because the growth opportunity wasn't there. That chain, started in 1994, had more than 300 locations when it was sold to CenterOak last year.
With Blaze, the executive seems to have higher aspirations.
Blaze was previously touted as the "Chipotle of pizza," but Wetzel has said he doesn't see that as a good comparison. In a 2015 interview, he said the question on his mind was, "Who's going to be the Starbucks of fast casual?"
— With assistance by Alex Barinka
Before it's here, it's on the Bloomberg Terminal.
LEARN MORE