markets
Itau's Miami Growth Fueled by Brazil Investors Escaping Mess
By
U.S. private-bank portfolio jumped fourfold in past decade

Falling interest rates in Brazil expected to push funds abroad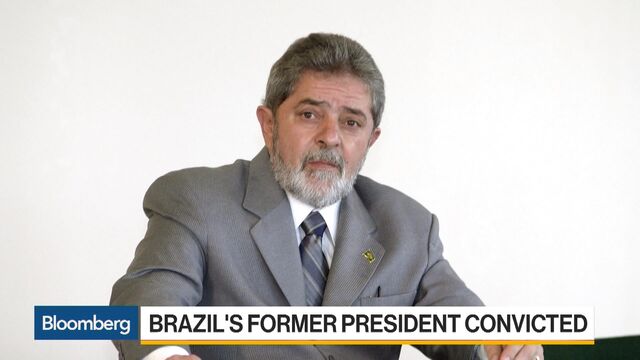 Brazil's Itau Unibanco Holding SA says its Miami private-banking business is booming despite the political and economic crisis at home.
Or perhaps because of it.
"In bad environments, it grows for diversification," Carlos Constantini, Itau's head of international private banking, said in an interview in Miami. "Latin American investors look for alternatives to hedge their savings, and sending money abroad and having different currencies and jurisdictions has always been, and continues to be, one alternative to diversify."
For all the bad news coming out of Brazil -- former President Luiz Inacio Lula da Silva on Wednesday became the latest politician convicted of bribe-taking and money-laundering -- assets at Itau's U.S. private bank have jumped fourfold in the past decade. The business now oversees about $12 billion, up from $10.8 billion at the end of last year, according to a staff presentation marking the Miami office's 10-year anniversary.
Constantini, who is also chief executive officer of Itau's U.S. operation, said the bank is forging ahead with its international-growth strategy despite an uncertain economic recovery and political-corruption scandals in Brazil, where Itau is the biggest bank by market capitalization. The goal for the next five years is to become the top bank for Brazilians investing abroad, up from its third-place ranking. JPMorgan Chase & Co. lays claim to the No. 1 spot.
Itau wants to increase its market share to 15 percent from about 10 percent, Constantini said, adding that he expects demand to increase as Brazil interest rates drop and tax amnesty frees up more clients' assets to invest.
Watch a QuickTake video about Brazil's economic challenges
Last year's amnesty bill allowed citizens and companies to declare previously undisclosed assets held abroad, provided they pay a fine and taxes. Sao Paulo-based Banco Bradesco SA, which earlier this year announced plans for its own office in Miami Beach, has said the amnesty law would free up a multibillion-dollar pool of assets formerly under wraps.
To open a Miami account, Itau's private-banking clients in Brazil generally need at least 5 million reais ($1.6 million) to invest, with $1 million or more allocated in the U.S.
As Brazil recovers from a bout of stagflation, investors will have another reason to send some of their money abroad: Sky-high interest rates that had been running at around 1 percent a month will eventually normalize, forcing investors to look elsewhere for returns.
Brazilians have long had a special relationship with Miami. In the heady days of Brazil's economic boom, they took advantage of a strong currency and poured savings into condominiums there. As Brazil lost favor amid an ever-deepening government corruption scandal, deflated commodities prices and a ballooning national debt, they moved money to the U.S. to protect it.
"The offshore private-bank pie grows in good and bad environments," Constantini said.
Real Estate
Last year, Brazilians bought at least $861 million in South Florida homes, more than any other nationality except Venezuelans, according to the Miami Association of Realtors. And they spent the most on average of any foreign nationality -- $775,000 per home, up from $766,000 in 2015, according to the data, which showed that a majority of the transactions were all-cash.
Constantini said the growth of the U.S. operation is partly a defensive move that reflects wealthy Brazilians' migration patterns: They often start with just a vacation home, and later decide to start businesses or raise children in the U.S.
"We have to be prepared, because we don't want to see families saying, 'Sorry, you're not serving me in the U.S., so I will be someone else's client," Constantini said.
— With assistance by Felipe Marques, and Cristiane Lucchesi
Before it's here, it's on the Bloomberg Terminal.
LEARN MORE