Email Chain Turns Focus to Trump's Miss Universe Ally in Moscow
By and
Agalarov said to broker Russian government aid to Trump

Trump, developer spent 'beautiful days' together in Russia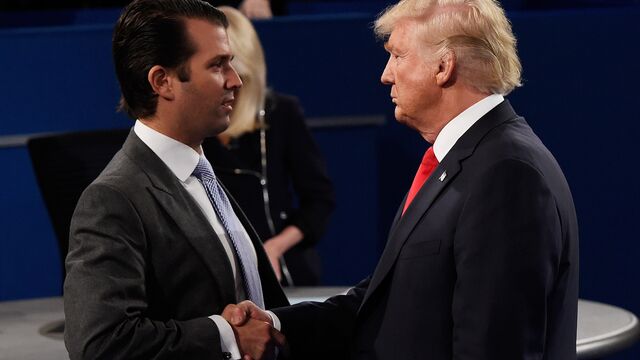 He's a real estate mogul with a pop-star son whose Trump Tower-sized ambitions helped bring the Miss Universe pageant to Moscow.
But now, Aras Agalarov's cameo appearance in the emails released by President Trump's son, Donald Trump Jr., has drawn him into the firestorm around alleged Kremlin meddling in the U.S. election last fall. 

The emails say Agalarov met in June 2016 with the "crown prosecutor of Russia" -- apparently a reference to Russian Prosecutor General Yuri Chaika -- who wanted to convey compromising information on then-Democratic presidential candidate Hillary Clinton to Trump. Agalarov's son, Emin, then asked an associate to arrange a meeting between a Russian lawyer and the younger Trump, the emails say.
The Agalarovs denied the allegations contained in the emails. It's "simply not the case that the Agalarovs were in any way intermediaries with regard to the Russian government or communicating about the election," said Scott Balber, a lawyer representing the family.
The Kremlin has also denied that they were involved in the alleged plot. Donald Trump Jr. said the lawyer was not a Russian official and had no information to provide on Clinton.
Regardless, the email release intensified the focus on whether the Trump campaign colluded with representatives of the Russian government to try to influence the election. And it drew renewed attention to Trump's relationship with the elder Agalarov, who shares an interest in golf, beautiful women and plastering his name on real-estate ventures.

'Beautiful Days'
Trump and Agalarov got to know each other in 2013, when the Moscow magnate spent $20 million to host the Miss Universe pageant, then owned by Trump.
In an interview last year, Agalarov said he and his son, Emin, visited Trump in Las Vegas in 2013 to discuss plans and then hosted the future president in Moscow for the beauty contest that November.
The elder Agalarov said he and Trump discussed building a Trump tower at a development -- to be called Manhattan -- planned next to his main complex on the western edge of Moscow. Agalarov later said he put that plan on ice, first because of weakening demand in Russia and later because Trump was elected.
Trump even agreed to put in an appearance in one of Emin's music videos, pronouncing his trademark "You're fired." Months later, Trump sent Emin, who is also vice president of his father's company, a video birthday greeting via YouTube, saying, "You're great at real estate and boy can you entertain."
In a television interview in 2015, Aras Agalarov said of Trump's visit, "We spent probably five or six beautiful days together. He left here very impressed."
Crocus Group

Born in Baku, Azerbaijan, when it was still a part of the Soviet Union, Aras Agalarov, 61, traded goods on the black market to support his family after his father died, when he was 13, according to a 2015 newspaper interview. He moved his family to Moscow in the 1980s and eventually formed a Russian-American joint venture called Crocus International, which hosted the country's first-ever computer trade fair.
He parlayed his success into real estate development. His Crocus Group has developed shopping malls, hotels and restaurants. Its other businesses include a luxury watch brand, a bank, and an 18-hole golf course outside of Moscow.
In 2012, Agalarov built a university campus in the far eastern city of Vladivostok for an Asian forum attended by Russian President Vladimir Putin. Agalarov later complained the project was a money loser.
He was also among the wealthy tycoons selected to build stadiums for another major Kremlin effort, the 2018 soccer World Cup. But budgets for those have been cut and Agalarov has said in local interviews he doesn't expect the projects to make much money.
"We're not trying to make money on the stadiums. The goal is not to lose our money," he said in an interview with the Russian version of Forbes in 2015. "This is a status project."
Around the time of Trump's visit, Putin awarded Agalarov the Order of Honor, an official medal, for his contributions in business and charity. But Putin didn't mention his name in his speech at the ceremony, unlike other prominent recipients, who included actors, religious leaders and an Italian judo coach.
Top 100
In Russia, Agalarov isn't considered a member of Putin's inner circle, which includes mainly business tycoons the leader met many years ago in his hometown of St. Petersburg. When Trump came to Moscow in 2013, Agalarov tried -- and failed -- to arrange a meeting for him with the Russian president, he said. Kremlin Spokesman Dmitry Peskov confirmed Putin had been invited to the Miss Universe pageant but didn't attend.
"Agalarov isn't in the top 10 or 20 most influential businessmen in Russia," said Mikhail Vinogradov, head of the St. Petersburg Politics Foundation, a think tank. "Maybe he's in the top 100."
Despite his acquaintance with Trump, the Kremlin hasn't turned to Agalarov for advice on the president, and Putin would be skeptical of any he might give, according to several Russian officials.
"Putin is a czar who floats above everyone, and I can't imagine he would have really close ties to any oligarchs he hasn't known since the very early days," said Igor Bunin, head of the Center for Political Technologies, a Moscow consultancy. "It's highly improbable that Putin would use Agalarov in such a delicate matter."
Still, Agalarov has shown unusually public ties to the prosecutor Chaika, taking out an advertisement in 2015 to defend him from corruption allegations and comparing his accusers with Nazi propagandists. Chaika was never charged.
Chaika, in turn, has helped lead the Russian government's efforts to counter the Magnitsky Act, a U.S. law passed in 2012 that imposed sanctions on Russian officials implicated in human-rights violations. Natalia Veselnitskaya, the Russian lawyer who ultimately met with Donald Trump Jr. in June 2016 after the email exchange, has campaigned for its repeal.
Asked to comment on the contents of the emails released by Trump Jr., a spokesman for Russia's prosecutor general said it conducts international contacts exclusively through legal channels.
New Jersey Ties
The Agalarovs' political ties blur into the personal in their hometown of Baku. In 2006, Emin married Leyla Aliyeva, the daughter of Ilham Aliyev, the current president of Azerbaijan. Emin and his wife divorced in 2015.
Trump has a Baku connection too. In 2012, he partnered with a developer in Baku tied to the ruling regime -- known for corruption -- on a hotel project that was never opened. A lawyer for the Trump Organization has said Trump played a passive role in the Baku development and was "merely a licensor," according to the New Yorker magazine.
The Agalarov family's connections to America are decades old. In the 1990s, as crime soared in Russia, Emin was sent to a Swiss boarding school before moving to New Jersey, where his mother, Irina, and sister, Sheila, joined him. Emin is listed among Tenafly High School's class of 1997 and went on to study business at Marymount Manhattan College. His father convinced him to return to Russia to work for the family business in 2001.
The Agalarovs still own multimillion dollar homes on Fisher Island in Miami and in Bergen County, New Jersey, outside of Manhattan, where their 2.5-acre home in Alpine is listed for sale for nearly $7 million.
The Agalarovs no longer live there, according to the daughter, Sheila. "They live in Russia," she said in an interview last month.
After the election, Agalarov said he welcomed Trump's victory even if it meant his plans for a Trump tower would have to wait. "Some kind of miracle has taken place," he told the official Tass news agency.
— With assistance by David Voreacos, Evgenia Pismennaya, Stepan Kravchenko, and Alexander Sazonov
Before it's here, it's on the Bloomberg Terminal.
LEARN MORE