Canada Bonds Extend Plunge After First Rate Hike in Seven Years
By
Yields rise across the curve, with shorter rates surging more

Canadian dollar is little changed near one-year high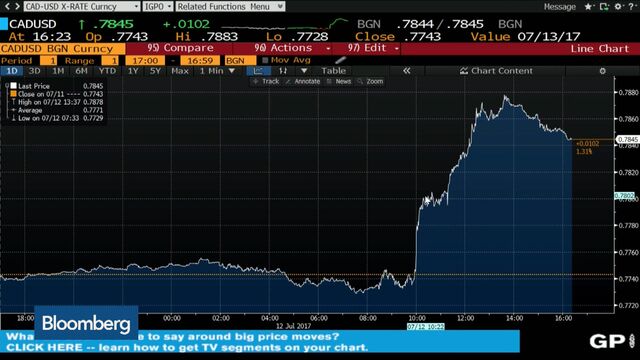 Canadian government bonds extended their slump, pushing two-year yields to the highest since 2013, the day after the Bank of Canada raised interest rates for the first time in seven years and signaled more tightening may be ahead.
Yields rose across maturities. The Canadian dollar was little changed near a one-year high rallying 1.3 percent Wednesday.
While the decision to boost rates was expected by a majority of economists surveyed by Bloomberg, investors were surprised by the Bank of Canada's effort to downplay weak inflation and signal that the economy's output gap will close earlier than previously forecast.
"The message is they're definitely comfortable with rates going higher," said Richard Gilhooly, a New York-based rates strategist at CIBC World Markets. "The front end kind of has a gun to its head because you have a central bank that's pulling the trigger."

The yield on Canada's two-year government debt rose six basis points to 1.25 percent, after increasing seven basis points Wednesday. The rate on the country's five-year note climbed seven basis points to 1.57 percent. Ten- and 30-year yields also rose.
The loonie gained 0.1 percent to C$1.2740 per U.S. dollar at about noon in Toronto, extending its advance since June 12 when Bank of Canada officials first signaled the intent to tighten monetary policy to 5.8 percent. It's the best performance among 31 major currencies tracked by Bloomberg.
There's a 74 percent probability that policy makers led by Governor Stephen Poloz will increase rates again this year, according to overnight index swaps data compiled by Bloomberg, which would reverse the two cuts the central bank carried out in early 2015 to counter the effects of falling oil prices. There's also a 26 percent chance of two additional hikes this year.
"If he wanted to send a clear signal that this was just about reversing the 2015 cuts then he had the opportunity to do so and declined, but he likely did not want to go too far with guidance just yet," Derek Holt, head of capital markets economics at Bank of Nova Scotia in Toronto, wrote in a note. "I still think he'll go further and faster than markets expect."
Before it's here, it's on the Bloomberg Terminal.
LEARN MORE