Brazil's Lula Likens Prison Sentence to Political Persecution
By and
Lula says no evidence to back charges that are based on lies

Judge Sergio Moro convicted ex-president on corruption charges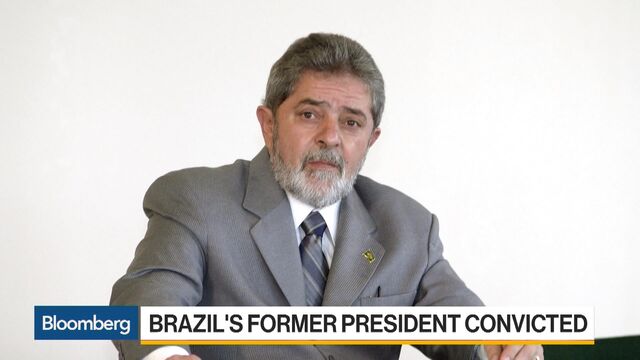 Former Brazilian President Luiz Inacio Lula da Silva vowed to challenge a corruption conviction, saying the ruling is an attempt to prevent him from running in next year's election.
Judge Sergio Moro on Wednesday sentenced Lula to nine and half years for taking 3.7 million reais ($1.1 million) worth of benefits from a construction company in exchange for favors. During a speech in Sao Paulo on Thursday, Lula blamed the media and prosecutors for plotting against him, saying there was no proof to substantiate the charges that were based on lies. He said he would appeal in all instances.
"There's an attempt to pull me out of the political game," said Lula, surrounded by supporters from his Workers' Party and from grassroots movements. "You will have a contender with a legal problem," he said without explicitly saying he would run.
Lula is the most prominent figure ensnared by the three-year Carwash corruption probe into kickbacks involving contracts at the state-run oil company. A former factory worker who once was the nation's most popular politician, he is also the opinion poll favorite for the 2018 elections.
Lula will appeal the sentence on the grounds that Moro disregarded material provided by defense, his lawyer Cristiano Zanin Martins had said earlier. If his conviction is upheld by an appeals court, the former head of state will be barred from running for the nation's top job.
Political Turmoil
Investors welcomed the prospect that Lula may be out of the race. Brazil's real and benchmark stock exchange accelerated gains after the decision was announced on Wednesday, while the five-year credit default swap spread, a gauge of investor risk perception, dropped to the lowest in nearly two months. The real was down 0.2 percent on on Thursday, while the benchmark stock exchange rose half a percentage point.
On Wednesday night rival crowds gathered in some of Brazil's main cities to protest or celebrate the decision but no major incidents were reported.

Since June 2013, large-scale protests have periodically convulsed Brazil, with rising discontent accompanying the country's slide into its worst recession on record. President Dilma Rousseff, Lula's handpicked successor, was impeached in 2016. But the administration of Michel Temer has been dogged from the outset by chronically low approval ratings as well as accusations of illegitimacy and corruption.
Brazil's Popular Leader Lula Convicted: A Guide to What's Next

Moro's judgment comes as Temer faces a congressional vote on a corruption charge filed by the nation's top prosecutor, the first time a sitting Brazilian president has been charged with a criminal offense.
Members of the lower house Constitution and Justice Committee are currently debating whether to advise putting Temer on trial at the Supreme Court, with a decisive vote in the plenary possible as early as this week.
With confidence in Brazil's establishment already at an all-time low, the downfall of its most iconic political figure will only reinforce the nation's sense of disillusionment and potentially pave the way for a maverick candidate in 2018. Trailing Lula closely in the polls is a former army captain, Jair Bolsonaro, famed for homophobic and sexist outbursts, and tirades against crime and corruption.
"This is an historic, symbolically powerful decision," Christopher Sabatini, a professor of international relations from Columbia University, said on Wednesday. "Carwash has reached up to the highest levels and brought down the icon of Brazil's success."
— With assistance by Bruce Douglas
Before it's here, it's on the Bloomberg Terminal.
LEARN MORE