Business
Behind Buffett's Big Energy Bid
The billionaire investor is going up against Paul Singer in the deal for Oncor.
By , , , and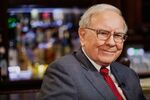 Deal Snapshot provides a pithy summary of a significant corporate acquisition, sale, or transaction. This week: Warren Buffett goes up against Paul Singer in the deal for Oncor.
Oncor Electric Delivery Co.
Buyer: Berkshire Hathaway Energy Co., a subsidiary of Warren Buffett's Berkshire Hathaway Inc.

Price: $18.2 billion

Buffett is bidding for Oncor, which helps deliver electricity to about 10 million customers in Texas. Oncor's parent, Energy Future Holdings Corp., was taken private in the world's biggest leveraged buyout in 2007 and went bankrupt in 2014.

What It Does
The deal would give Berkshire Hathaway Energy control of Texas' largest electric-­transmission operator. Buffett has been pouring more of Berkshire's cash into such stable, recession-proof businesses in recent years.
Bargain Price?
Buffett is paying hundreds of millions less for Oncor than NextEra Energy Inc. proposed in a deal that Texas regulators scotched in June. The watchdogs also nixed a bid by Hunt Consolidated Inc. Analysts believe Buffett's reputation, deep pockets, and support of an independent Oncor board will win over regulators.
Local Support
Regulators, cities served by Oncor, and industrial users have agreed with Berkshire on conditions for running the unit.
What's Next
Buffett may need to make peace with hedge fund Elliott Management Corp., which owns billions of dollars in Energy Future debt. Elliott, run by billionaire Paul Singer, wants equity in the company, thinks Buffett's offer is too low, and is working on a competing bid.
(Updated to reflect Elliott Management saying it is working on a competing offer.)
Before it's here, it's on the Bloomberg Terminal.
LEARN MORE