politics
Balance of Power: Brazil's Graft Epidemic Claims Iconic Leader
By and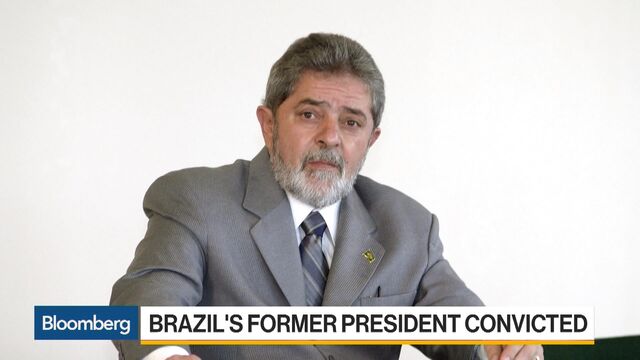 Brazil's most iconic president of modern times, Luiz Inacio Lula da Silva, is now fighting to stay out of jail.
The federal judge who has overseen the country's sprawling corruption investigation since 2014 sentenced the former leader to almost 10 years for graft and money-laundering - a seismic development in a culture used to impunity for the rich and powerful.
While Lula will appeal, it virtually kills his chances at another presidential run next year and removes what many investors saw as the biggest wildcard for the election. But, for some Brazilians weary of scandal and recession, his fall is also evidence of a generalized rot within the political establishment.
That could pave the way for an outsider. Keep an eye on Jair Bolsonaro, a former army captain who is riding high in the polls. He's been criticized for homophobic and sexist outbursts, but his tough talk on law and order may resonate with Brazilians tired of endless graft scandals. 
All of this comes as President Michel Temer himself faces charges of corruption. The crisis ripping Brazil's elite apart looks set to get worse before it gets better.

Sign up to receive the Balance of Power newsletter in your inbox, and follow Bloomberg Politics on Twitter and Facebook for more.
Global Headlines
POTUS backs Trump Jr. | Donald Trump isn't blaming his eldest son for meeting with a Russian lawyer during last year's election campaign. "Many people, and many political pros, said everybody would do that," he told Reuters in an interview. The president, who landed in Paris this morning, is sure to face further questions on the Russian saga when he holds a joint press conference later today with French President Emmanuel Macron.
New Obamacare repeal plan | Senate Majority Leader Mitch McConnell will take another run at a repeal plan today, and this time he's got leverage: more than $230 billion he can spend over 10 years to sweeten the bill for Republican holdouts. His new proposal discards earlier plans to repeal a series of Obamacare taxes on the wealthy, a move that effectively frees up cash that he can spend on more benefits to try to win support from moderates.
Brussels triumphant | As U.K. Prime Minister Theresa May unveils the landmark law today that will make Brexit a reality, the European Union is enjoying a new lease of life. But, as Editor-in-Chief John Micklethwait writes in this week's Bloomberg Businessweek, the bloc still faces a range of challenges that need urgent attention. Otherwise the EU will soon be back in crisis mode.
Trump's man in Moscow | He's a real estate mogul with a pop-star son whose Trump Tower-sized ambitions helped bring the Miss Universe pageant to Moscow. But now, as Ilya Arkhipov and Tom Metcalf explain, Aras Agalarov's cameo appearance in Donald Trump Jr.'s emails has earned him a whole new level of notoriety.
Canada rate headache for Trudeau | A booming economy led the central bank to hike rates yesterday for the first time in almost seven years. That could make things trickier for Prime Minister Justin Trudeau: Canadians are already saddled with debt and fear a housing crash, and now borrowing costs will rise.
China still buying North Korea's iron | Don't read too much into the latest trade data showing that Beijing's imports from the Hermit Kingdom fell 13 percent in the first half of 2017. As Bruce Einhorn writes, Chinese purchases of iron ore jumped in the first five months of the year. That, combined with the fact China is expected to resume coal imports at the end of the year, means the hard currency is likely to keep flowing for Kim Jong Un's weapons program.
Israel's Hajj diplomacy | Israel wants to persuade Saudi Arabia to allow it to send special pilgrimage flights to Mecca instead of forcing its Muslim citizens to endure a 1,000-mile bus route, the country's communications minister said in an interview. Trump broke a longstanding taboo in May by flying between the two nations, which do not have formal diplomatic relations but have drawn closer in recent years due to a shared enemy, Iran.
And finally... Macron is turning on the charm for Trump during his visit to Paris for Bastille Day. The two presidents, who were elected by voters disillusioned with their governing elites, will enjoy dinner tonight in one of the city's most expensive restaurants -- Le Jules Verne in the Eiffel Tower, where a six-course tasting menu featuring gold cavier, marinated sea bream and blue lobster costs €230 ($262). "More than a restaurant, it is a place of dreams and memories," the restaurant's celebrity chef, Alain Ducasse, says on its website. What voters will make of it is anyone's guess.

Before it's here, it's on the Bloomberg Terminal.
LEARN MORE