markets
Yellen's Take on Inflation Shifts Subtly in Remarks to Congress
By , , and
She noted declines in 'certain categories of prices' in text

Shift suggets Yellen more concerned about subdued inflation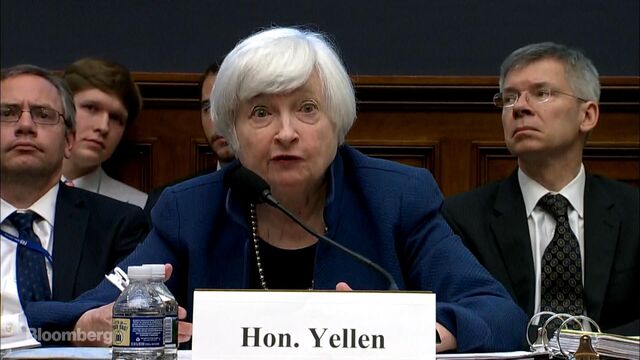 Federal Reserve Chair Janet Yellen on Wednesday altered the language she used to describe recent softness in inflation, expressing deeper concerns over how persistent that weakness may prove.
In written testimony to lawmakers, Yellen noted declines in "certain categories of prices," in a reference to drops in prices for mobile telecommunications services and pharmaceuticals. However, she called lower inflation "partly the result" of those factors.
In June, her take was subtly, but importantly, different. At the beginning of a June 14 press conference after a Fed meeting at which officials voted to raise interest rates, Yellen said recent lower inflation was driven "significantly by what appear to be oneoff reductions in certain categories of prices."
That followed a pattern Yellen had established of referring to recent weak readings on inflation as "transitory."

The U.S. expansion is in its ninth year and continues to create jobs without much inflation. Unemployment was 4.4 percent in June and employers have added 187,000 jobs a month on average over the past 12 months. But stronger demand for labor hasn't fed into higher wages, and the Fed's preferred gauge of price pressures has remained stuck under its 2 percent target for most of the last five years.
The shift in language suggests Yellen has grown more concerned about downward pressures on inflation that can't be explained by visible price drops in specific sectors. In her testimony, she went on to say that uncertainty surrounds the question of "when -- and how much -- inflation will respond to tightening resource utilization."
That signals less certainty at the Fed that price declines in certain specific sectors fully explains soft inflation, while policy makers remain puzzled why wages and overall price pressures aren't being pushed higher by low unemployment.
Before it's here, it's on the Bloomberg Terminal.
LEARN MORE